News
11 Wild Horses Killed After Federal Helicopter Raid
RENO, Nev. (AP) — Nearly a dozen feral horses have died in the first 10 days of a major Mustang raid in Nevada, deaths that a Las Vegas congresswoman says are tragic evidence of the urgent need to ban helicopters used to capture the animals on state lands.
The 11 deaths so far include five young foals, four horses with a broken neck and a stallion with a broken hind leg who was chased by a helicopter and a horseman for 35 minutes as he tried to flee on three legs before being euthanized, according to witnesses.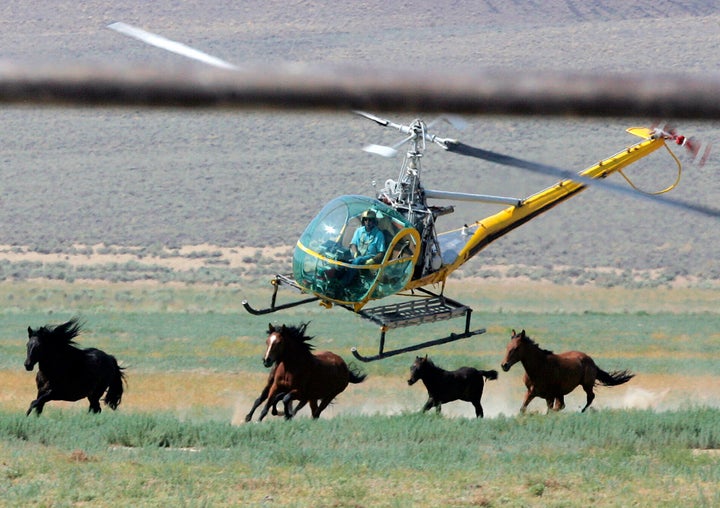 The horse that broke his leg jumping a safety fence last Wednesday was a lead palomino named "Mr. Sunshine" by those who have seen him roaming wild southeast of Elko over the years.
A longtime observer and defender of mustangs captured the animal's fight on video.
"It made me physically sick to see what was done to this beautiful stallion I've known for years," said Laura Leigh, founder of Nevada-based nonprofit Wild Horse Education.
"He tried to take the stabbing pain and then fought on three legs. He was then followed to the other side of the valley and shot. It took more than 30 minutes to clear up the incident," she said. "These barbaric, cruel and premeditated acts must come to an end."
The deaths should serve as a wake-up call, said Nevada Democratic Rep. Dina Titus. "A horse with a broken leg was chased by a helicopter in the sweltering heat," she said, criticizing a Bureau of Land Management practice she wants House legislation to ban.
"This latest case of BLM abuse of wild horses in Nevada by BLM is tragic," Titus said Tuesday.
Leigh and others filed suit after several horses were killed in a raid a decade ago, and the agency passed a sweeping animal welfare program in 2015 that, among other things, bans helicopters from contact with the mustangs.
However, the agency resisted efforts to end the use of helicopters, saying they were necessary to reach remote herds.
"BLM policies and staff prioritize the welfare and humane care of all wild horses in all collection operations," bureau spokeswoman Heather O'Hanlon said in an email to The Associated Press on Monday. She said the agency has a Department of Agriculture veterinarian who assesses and monitors the condition of the animals and consults with officials at the office to ensure the health and safety of horses and people.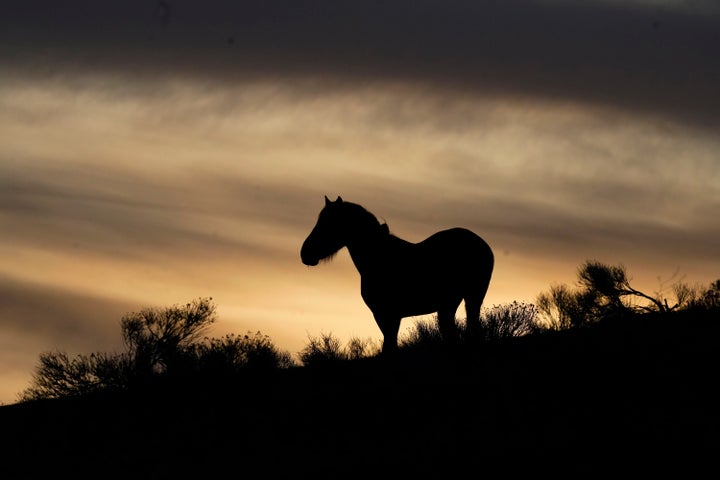 FBI spokeswoman Rita Henderson said injuries to feral horses and donkeys in raids are rare. She said the "vast majority" – more than 99% – arrived without serious incident or injuries resulting in death.
According to the bureau, the latest raid began on July 9 in eastern Nevada between Elko and Ely because overpopulated herds are seriously damaging the range's ecology.
Nevada is home to nearly two-thirds of the 68,928 wild horses the agency estimated March 1 roaming federal territories in 10 western states from California to Montana.
The agency plans to collect about 2,000 horses from the raid in three areas — Antelope Valley, Goshute, and Spruce-Pequop. It says the estimated 6,852 horses is nearly 14 times what the range can sustain.
As of Tuesday, 1,087 people had gathered, the office said.
By balancing herd size with what the country can support, the agency wants to protect habitat for other wildlife species, including sage grouse, pronghorn, mule deer and elk, said Gerald Dixon, the bureau's Elko district manager.
But critics say the real purpose is to appease ranchers who don't want horses competing with their livestock for valuable fodder in the high desert, where annual rainfall is less than 10 inches.
The American Wild Horse Campaign is releasing the illustrative photos and videos taken by Leigh and others "to educate the public about the BLM's inhumane approach to wild horse management," said group spokeswoman Grace Kuhn.
"This cruel treatment of wild horses is unacceptable and falls well below the standards that Americans have come to expect from these iconic animals," she said.