News
22 of this week's funniest tweets about cats and dogs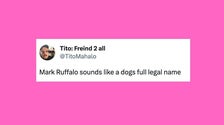 Woof – it's been a long week.
If you feel like you've been working like a dog, we offer you the internet equivalent of a big pile of catnip: hilarious tweets about pets.
Each week at HuffPost, we scour Elon Musk's crumbling Twitter site. They're guaranteed to make you cry.
(And if you want more, no need to beg — you can check out last week's batch here.)