News
5 million bees fall off the truck, beekeepers save the day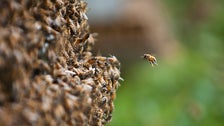 TORONTO (AP) — Police west of Toronto on Wednesday warned motorists to keep their car windows closed after a truck spilled boxes containing five million bees onto a street.
Halton Regional Police said they received a call around 6:15 a.m. reporting the bee crates had become detached from a truck and made their way onto the Guelph Line north of Dundas Street in Burlington, Ontario, west of Toronto .
It was "quite a scene," said Constable Ryan Anderson.
"There were literally boxes in the street and swarms of bees flying around," he said. "The first beekeeper who was there was apparently stung several times."
The scene prompted police to warn motorists to close their windows as they drive past and to warn pedestrians to avoid the area.
About an hour after the police posted a notice on social media, several beekeepers contacted the police and offered their help.
Eventually, six or seven beekeepers arrived at the scene, Anderson said.
At around 9:15 am, police said most of the five million bees had been safely collected and the boxes were being taken away. Some boxes had been left behind for the uncollected bees to return to themselves.
According to the Canadian Honey Council, a national association of beekeepers, a honey bee colony has about 50,000 to 80,000 bees in the summer.