Games
7 reasons why Ni No Kuni: Cross Worlds is great for RPG fans
The Ni no Kuni series has delighted RPG fans for over a decade. With its combination of incredible art and animation, compelling storytelling, and deep RPG mechanics, Ni no Kuni has long established itself as one of the best RPG series. Now, with Ni no Kuni: Cross Worlds, you can experience the incredible world of the series not only with friends, but also in your pocket, as a brand new mobile MMO experience developed and published by Netmarble. Here are 7 reasons RPG fans should be excited for Ni no Kuni: Cross Worlds.
Experience a brand new story in the dazzling world of Ni no Kuni

Cross Worlds is Ni no Kuni's most ambitious adventure yet, bringing with it an all-new story and a compelling new cast of characters. Players take on the role of beta testers for a cutting-edge virtual reality game called Soul Diver. But as players don their VR headsets and wake up in the beautiful fantasy world of Evermore, it becomes clear that Soul Diver is more than just a game. As the fantasy realm is under attack by malevolent forces, the fates of Evermore and the real world become increasingly intertwined.
Everything you love about Ni no Kuni, on the go

Cross Worlds is a mobile game that doesn't compromise. Powered by Unreal Engine 4, Ni no Kuni's distinctive art style is more vibrant and colorful than ever. Explore the rolling fields, shimmering lochs and sprawling castles of Evermore, including unique locations like the autumn forests of the Golden Grove. All of this is brought to life by an immersive soundtrack composed by Joe Hisaishi, the world-renowned Studio Ghibli composer who previously worked on films such as Spirited Away and Howl's Moving Castle. It's a full-fledged RPG experience, carefully designed to fit your phone.
Choose from one of five customizable classes

Ni no Kunis' latest adventure can be enjoyed from the perspective of five different classes. Crush your foes as a powerful Destroyer whose incredible strength and hammer skills belie his sensitive nature and love of flowers. Alternatively, you could play as a witch attacking enemies with a combination of spells and a magical floating spear. Other classes include the dueling swordsman, the sneaky rogue, and the gadget-obsessed engineer, who blows up enemies with her flintlock rifle and can manipulate time herself to heal and empower her companions!
Take part in spectacular real-time battles

Adventure in Ni no Kuni: Cross Worlds seamlessly transitions between exploration and combat. During battle, each class can crush enemies with 5 unique class abilities. The Rogue, for example, can blind enemies with her blinding solar flare before turning them into pincushions with a shower of arrows. The swordsman, on the other hand, can slice and dice enemies with his Spinning Swords attack before finishing them off with his fiery Magic Sword Cut ultimate ability. As you journey through the world of Ni no Kuni, combine these skills to repel hordes of enemies in fast-paced battles and defeat huge bosses in spectacular encounters.
Play together with friends and build your own kingdom!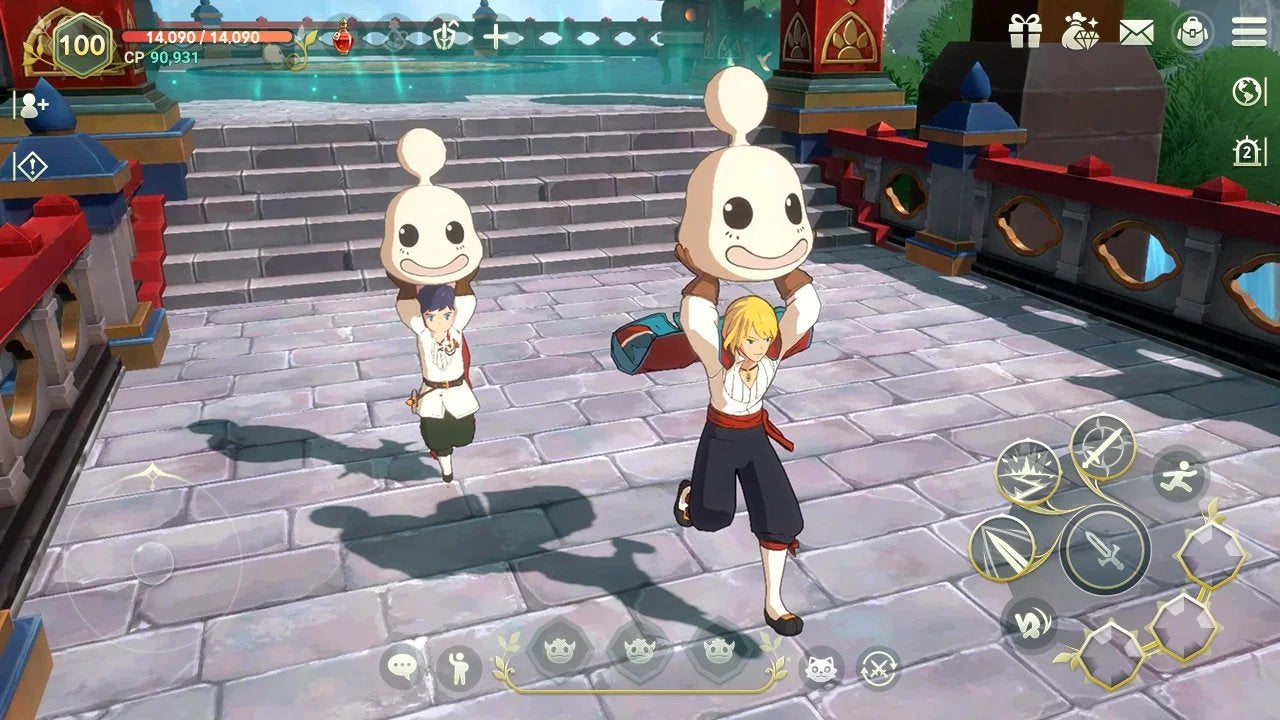 Ni no Kunis' adventure can be experienced either solo or in cooperative multiplayer, and the journey extends far beyond the main story. Not only can players work in teams to explore elaborate dungeons and battle powerful field bosses, they can also found their own special kingdoms. Kingdom building provides access to special bonuses and adventure opportunities, including unique kingdom dungeons. But beware! Your kingdom can be attacked by monsters from other realms and you must defend your kingdom in epic tower defense battles.
Collect cute familiars and use them in battle

Even if you decide to play Cross World solo, you'll never have to explore alone. On your journey you will be accompanied by familiars, cute but powerful magical creatures that will fight at your side in battle. There are a large number of familiars in Cross Worlds. The adorable snow mouse Polarin. The powerful earth elemental Petromaton. The sentient teddy bear Rimu who tries to scare enemies with his dinosaur costume. There's something for everyone in Cross Worlds, and you can make new familiars by summoning them or just exploring the world.
Build your own farm and harvest crops

When you need a break from exploring and battling monsters, players in Ni no Kuni: Cross Worlds can start their own farms. Here you can grow and harvest all kinds of crops and use them to create unique items. Not only that, your farm also doubles as a home for the familiars you collect in-game, letting them roam free when they're not by your side in combat.
Ni no Kuni: Cross Worlds launches May 25 for iOS and Android. Players can pre-register for the game either through the official website or the official Discord channel. Players who pre-register through the App Store will receive a unique explorer outfit, while players who pre-register through Discord will receive a special title and the sleek Catarampus hat. And of course, you're ready to explore the massive and exciting adventure that awaits you in Ni No Kuni: Cross Worlds.
https://www.vg247.com/7-reasons-why-ni-no-kuni-cross-worlds-is-great-for-rpg-fans 7 reasons why Ni No Kuni: Cross Worlds is great for RPG fans