News
A Utah man who allegedly made threats against Biden was fatally shot in an FBI raid on his home
A Utah man was fatally shot after FBI agents searched his home in connection with death threats he allegedly made against President Joe Biden and other political figures.
Craig Robertson was killed in a raid on his home in Provo on Wednesday morning. several points of sale reported. In a statement, the FBI said agents were attempting to serve an arrest and search warrant when the shooting took place.
"The FBI takes seriously any shooting involving our agents or task force members," the FBI said a statement to ABC News. "In accordance with FBI guidelines, the shooting incident is currently being reviewed by the FBI's Division of Inspections. As this is an ongoing matter, we are unable to share any further details."
court documents obtained from Fox 13 reveal Robertson's numerous threats against political figures, including Biden and Manhattan District Attorney Alvin Bragg.
"I heard Biden is coming to Utah," Robertson wrote in a Facebook post Monday, days before Biden was due to appear in the state. "I'm going to dig out my old ghille [sic] Clean suit and dust from M24 sniper rifle."
According to the indictment, Robertson said in March he traveled to New York to kill Bragg.
"I'll be waiting in the courthouse parking garage with my silenced Smith & Wesson M&P 9mm to smoke a radical dumb prosecutor who should never have been elected," Robertson posted on social media. "Bye bye to another corrupt B______!!!"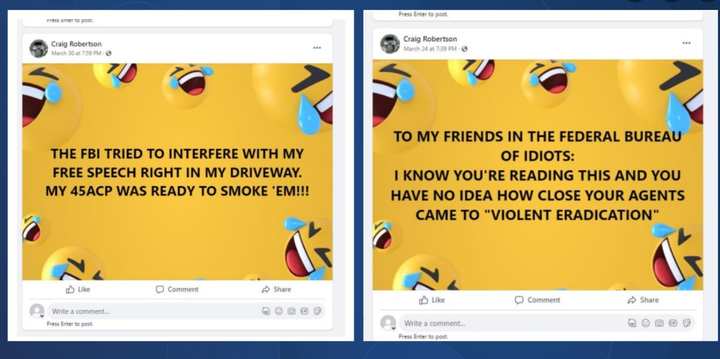 When an agent tried to speak to Robertson about the threat at his home on March 19, Robertson replied, "I said it was a dream!" and urged the agent not to return without a warrant, according to the indictment.
Days later, Robertson posted on Facebook in capital letters, "To my friends at the Federal Bureau of Idiots: I know you are reading this and your agents have no idea how close you came to 'violent extermination.'"
Robertson faced three charges: interstate threats; threats against the President; and influencing, obstructing, and retaliating against federal law enforcement officials through threats.