News
A worker who was "choked" by an airplane engine reportedly died by suicide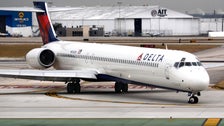 According to The Guardian, the San Antonio International Airport worker who was fatally 'choked' by a jet engine reportedly committed suicide.
A source told the Guardian that 27-year-old worker David Renner "deliberately stepped in front of the active engine" after Delta Flight 1111 landed at Texas Airport on Friday and taxied to the gate.
"There were no operational safety issues on either the plane or the airport," the National Transportation Safety Board said in a statement to The Guardian.
The news of the apparent suicide contradicts previous reports that the incident was an accident and compared it to an apparently similar incident at an Alabama airport in December. The Alabama incident was the result of a security breach and resulted in the killing of an American Airlines employee after he "got into the engine of the plane," the news agency reported Advance Local reported.
Unifi Aviation, where Renner worked, said there are counseling opportunities for employees.
"Our thoughts are with the family of the deceased and we remain focused on supporting our local staff and ensuring they are cared for during this time," added Unifi. "Based on our initial investigation, this incident was unrelated to Unifi's operations, security procedures and policies."
San Antonio Airport and Delta Air Lines did not immediately respond to HuffPost's request for comment Monday.
However, on Sunday, the San Antonio airport told HuffPost that it was "deeply saddened" by Renner's death.
Delta also sent a statement to HuffPost on Sunday, "We are heartbroken and saddened by the loss of the life of an aviation family member in San Antonio." Our sympathy and full support goes out to her family, friends and loved ones at this difficult time. "