According to Midia, global recorded revenue reached $28.8 billion in 2021
It is estimated that global recorded music revenue increased by 24.7% to US$28.8 billion in 2021.
That's according to a new report Midiareleased today (March 18), a few days before the release of IFPI's Global Music Report.
Midia says the 24.7% surge in 2021 represents the "biggest annual growth of the market in modern times."
Elsewhere in Midia's new report, the consultancy estimates that global streaming revenue will hit $18.5 billion in 2021.
That represented a 29.3% increase from 2020, or $4.2 billion year over year, which was also a record increase, according to Midia.
Midia cites non-DSP earnings – representing deals with platforms like Facebook Parent company Meta, TikTok, Snap, Peloton, and Twitch — as key drivers behind last year's streaming growth.
Revenue from non-DSP streaming recorded music – that is, revenue from digital platforms like those listed above – totaled $1.5 billion in 2021.
Traditional DSP streaming via services such as Spotify, apple music, Amazon Music and youtube musicreached $17 billion, according to Midia estimates
Midia estimates that when you break down the earnings of the major labels Universal music group achieved $8.2 billion in recorded music revenue in 2021, accounting for nearly 29% market share.
Midia appreciates that Sony music group (SMG) was the fastest-growing major for the second year in a row. According to Midia, SMG increased its market share "by growing significantly faster than the overall market".
Midia also estimates that for the first time since 2017, the big labels didn't see their combined market share fall.
---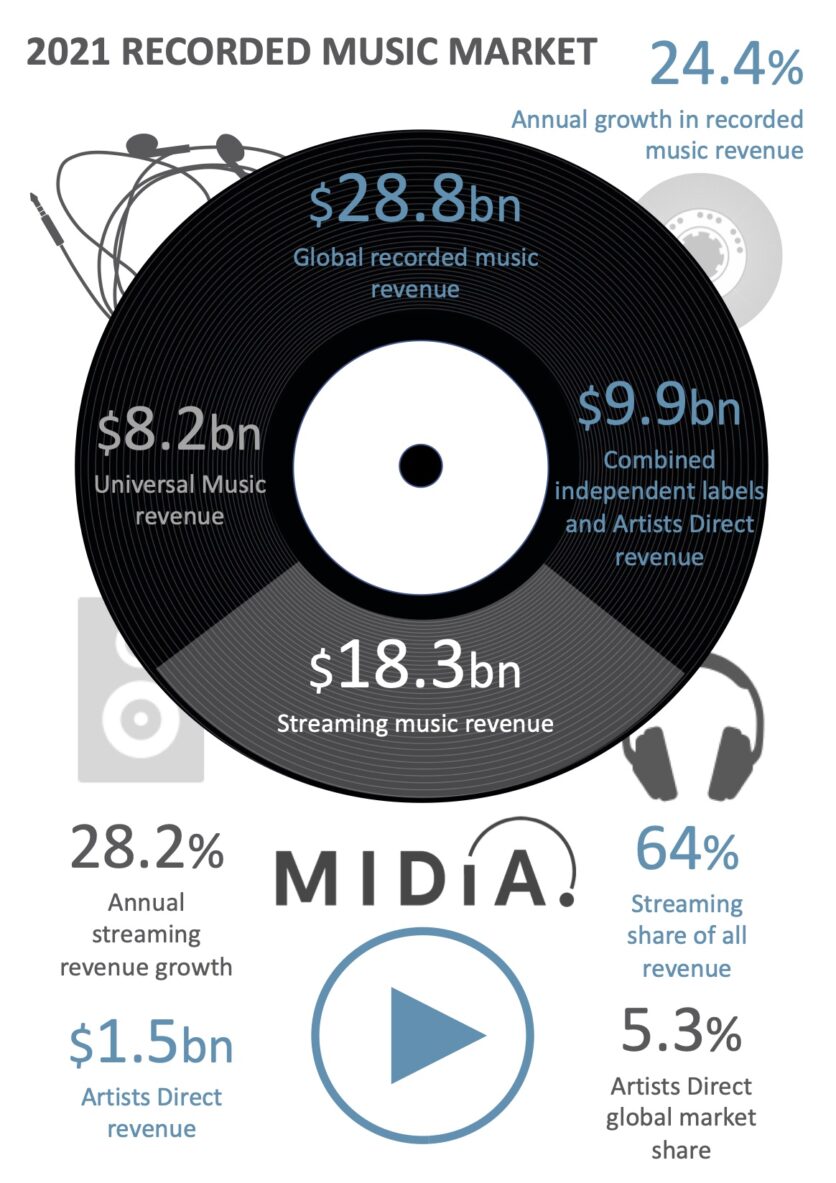 ---
One area of ​​the global recorded music business that is always of particular interest in Midia's estimates is the independent label and direct artist (ie self-publishing artist) sectors.
Combined, Midia estimates that independent labels and artists directly generated $9.9 billion in 2021.
Midia estimates that the direct-to-artist segment alone generated $1.5 billion of that $9.9 billion in revenue in 2021, up from $1.2 billion the previous year.
In other words, it's estimated that self-publishing artists made $125 million every month in 2021, or about $4 million a day.
Midia also estimates that the market share of artists who self-publish increased from 5.1% in 2020 to 5.3% in 2021.
"We indicated back in 2020 that 2021 would be a strong year for the recorded music market. As it turns out, 2021 was the fastest growing year in living memory."

Mark Mulligan, Midia
Midia's Mark Mulligan said: "The recorded music market looked vulnerable in 2020, relying solely on streaming for its growth, with prospects inextricably linked to that of DSPs. 2021 was a very different story, with growth on most fronts but most notably the rise in non-DSP revenue, reflecting an increasingly diversified future where labels fret a little less at the prospect of slowing subscriber growth in mature markets be able.
"Coupled with longer-term growth opportunities (NFTs, Metaverse, etc.), the outlook is positively rosy. Although exceptional circumstances (e.g. the general rebalancing of the economy following the 2020 Covid depression and much of the non-DSP revenue in the form of one-off payments) spurred 2021, an annual growth of 24.7% points to the emergence toward a new era for an increasingly diversified recorded music business.
Mulligan added: "We indicated in 2020 that 2021 would be a strong year for the recorded music market. As it turns out, 2021 was the fastest growing year on record, with growth across most formats, in stark contrast to 2020 when streaming was the only growth segment."
"2021 was a big year for the music business, with record amounts spent on acquiring music catalogs and IPOs Warner Music Group (WMG), Universal Music Group (UMG) and Believe digital.
"These developments proved to be symptoms of an increase in global recorded revenue market growth.music business worldwide
https://www.musicbusinessworldwide.com/global-recorded-music-revenues-reached-28-8-billion-in-2021-says-midia/ According to Midia, global recorded revenue reached $28.8 billion in 2021