News
Adam Sandler pays heartwarming tribute to Bob Barker with 'Happy Gilmore' memories
Adam Sandler said many will miss his old friend Bob Barker, who died Saturday at the age of 99. The legendary "Price Is Right" host famously made a cameo appearance in Sandler's 1996 comedy "Happy Gilmore."
"The Man. The Myth. The Best," Sandler wrote on X, the platform formerly known as Twitter. "Such a sweet, fun guy to spend time with. I loved talking to him. I loved laughing with him. I loved that he kicked the crap out of me."
He added: "A heartbreaking day. All the best to Bob and his family! Thank you for everything you have given us!"
Barker, a passionate activist and Navy veteran, allegedly died at his home in Los Angeles. His broadcasting career included The Bob Barker Show and Truth or Consequences – which became the longest-running game show before his version of The Price Is Right debuted in 1972. He then hosted that show for almost 35 years, resigning in 2007.
Barker is also known for his self-deprecating role in Happy Gilmore. For Sandler, who at the time was continuing to turn to film after leaving Saturday Night Live, a cameo by Barker as himself proved invaluable.
"I can't believe you're a professional golfer," Barker told Sandler's character in an iconic scene that culminated in an out of joint fight at a golf tournament. "I think you should work at the snack bar."
In the film, Barker appeared to lose the fight at first, and Sandler dropped a mocking one-liner ("The price's wrong, bitch") — but the then-seventy-year-old soon regained consciousness and knocked him unconscious.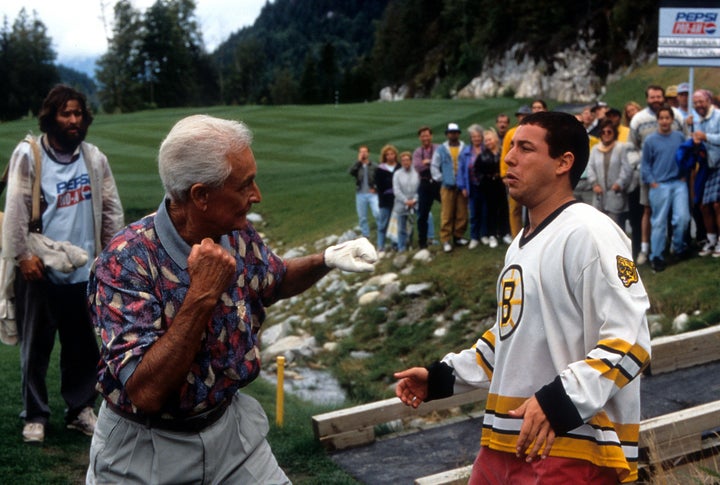 Barker was regularly training with 1980s action star Chuck Norris at the time, who happened to be his neighbor. Sandler confirmed in 2021 that Barker, tired of always losing to Norris, only agreed to the cameo offer if he could be shown to win a fight.
The fight between Barker and Sandler called himself Best Fight at the 1996 MTV Movie Awards and the hilarious on-screen enemies eventually struck up a lovable friendship in real life. Even barkers reunited with Sandler in 2015 to recreate their iconic fight during Comedy Central's "Too Many Stars Night."
"Beating up Adam was a joy," Barker told HuffPost in 2013.
Rob Schneider, who appeared in many of Sandler's comedies, wrote that Barker once said, "One of the nicest things I've ever heard in show business."
"I moved to Hollywood to be an actor and the only person who ever let me do that was Adam Sandler!" He recalled Barker saying.
In addition to his work in the entertainment industry, Barker has dedicated his life to advocating for animal rights, donate millions to the cause.