News
After years of infertility, I became pregnant at the age of 46. Little did I know that this would be the easiest part.
I turned 51 this year and one of the many things I've learned over the course of five decades on this planet is that our dreams rarely manifest exactly how we envisioned them. We can yearn for something for years and then when it finally arrives, we either don't realize it or are disappointed because it doesn't look quite what we expected.
I never thought that a "normal" family would come into question for me. It was something that happened to other people. People who were better at finding themselves in the right place at the right time. People who weren't so guarded with their hearts. people who were unbroken. But a part of me longed for it. I remember thinking that a loving family must feel like the safest place on earth.
Throughout my adult life I was told by a bevy of gentle doctors and specialists that I would never have a child naturally. While there were times when I thought about alternative routes to motherhood, I ultimately felt content in my life without children. I was a dog mom and aunt and enjoyed those roles. I was also a mountain girl: every weekend I would go on adventures in my jeep or on foot into the Alps to jump into remote crystal clear lakes. I loved my adventurous single life and my freedom. I had plans to travel, continue to expand my creative business so I could work from anywhere, and collect stories that one day, maybe, I would compile into a book.
A month after my 46th birthday my period stopped. Although I dated someone occasionally, based on my history I assumed menopause was finally peaking. A few more weeks went by and I began to experience some other symptoms that were unusual for me. I assumed these were further signs that my hormones were changing. But — maybe on a whim, maybe at my best friend's urging, maybe on a spur of intuition — I bought a pregnancy test at the local drugstore and went to the restroom at the neighboring Whole Foods to take it.
I sat there in the booth staring in disbelief at a very clear, clear blue line in the little window on the test stick. Surely that was a mistake – another artifact of my hormones gone awry. I immediately got Dr. Consulted Google and learned that there is a type of ovarian cyst that can release hormones that mimic the signs of pregnancy. That was it. I was sure I had one of those cysts. I just needed confirmation from my doctor.
That confirmation would not come. What did come in was a call from a cheerful nurse, saying my HCG levels were so high it was actually possible I was pregnant with twins, and a referral for an ultrasound that would reveal what now isn't undeniable: I was pregnant. PREGNANT. Impossible. At 46 years old. With a man who was sure of few things in life other than the fact that he didn't want to be a father.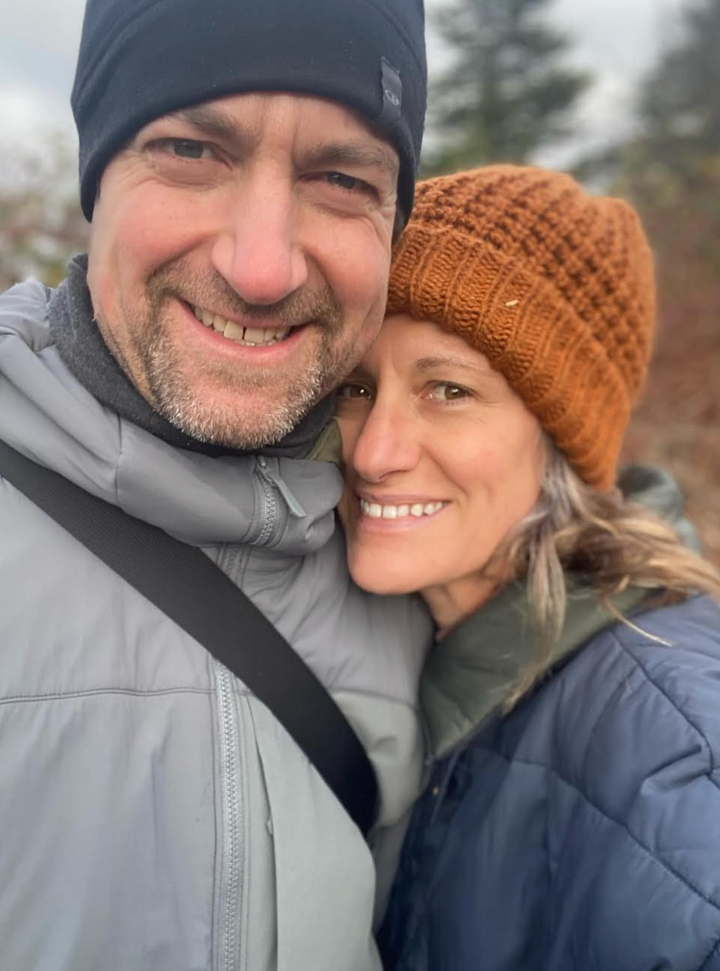 He was a circus performer – an aerialist seven years my junior. We had dated briefly a few years ago and had been back together for a few months at that point. Our connection was mostly physical and far from serious. On our first date, I texted my best friend, "I won't spend the rest of my life with him, but he's definitely cute." He often told me he didn't want to have kids, and I thought I did couldn't conceive, so we were a good match at least in that way.
Now I had to break him news that could change the course of his life forever. I remember driving to his apartment the night I was going to tell him, half dazed, almost dazed with uncertainty. We'd already made plans for this special night – taking a picture and hanging out with him and listening to podcasts – so I remember him smiling as he opened the door and then ducked back in to get his coat. I remember as always he was warm when he hugged me, warm and strong. And he seemed happy to see me. Heart pounding in my chest, I asked him if we could sit a minute before we left. As soon as we did that, I started crying. He put his hand on my knee and looked at me in a way that said, "Hey, whatever it is, I'm here." You have no ideaI thought.
I managed to utter the words and he managed to receive them, setting in motion a time that was both wondrous and distressing. I felt stunned, scared, sad, excited, hopeful and humbled all at the same time. He felt powerless and grieved for a future he had envisioned that might not materialize in the way he had hoped. I think back to that time as a whirring blur and free fall in slow motion.
We went to therapy together and talked for hours about all sorts of scenarios. He promised that he would be there for me no matter what I did, but he also begged me not to have a child. I came close to assuring him so many times that I wouldn't, but for some inexplicable reason I always stopped. I wondered: If I decided to have an abortion, would I regret it? And would that experience and that regret break my heart forever? I also thought about what I would be like in my mid-60s when this kid graduated from high school and the end of those alone summer days high in the mountains, travel and the book.
While I've always been a strong supporter of a woman's right to choose what she does with her own body—and while I was very clear about the choice that lay before me—the gravity of that choice, now that I'm making it, was real had to, almost too big too much to bear. I felt crushed under the weight of making it for both of us. For the three of us. Battered and paralyzed. In my state, in-hospital abortion is legal until the second trimester and other options are available until a fetus is viable. It would take me every single minute, hour, day, week, and month to process my own conflicting feelings, to get advice, to come to terms with myself, and to gain some level of reassurance that I Made a decision that was really right For me, it was pure in heart, it was mine.
Ultimately, it was my decision to meet my child.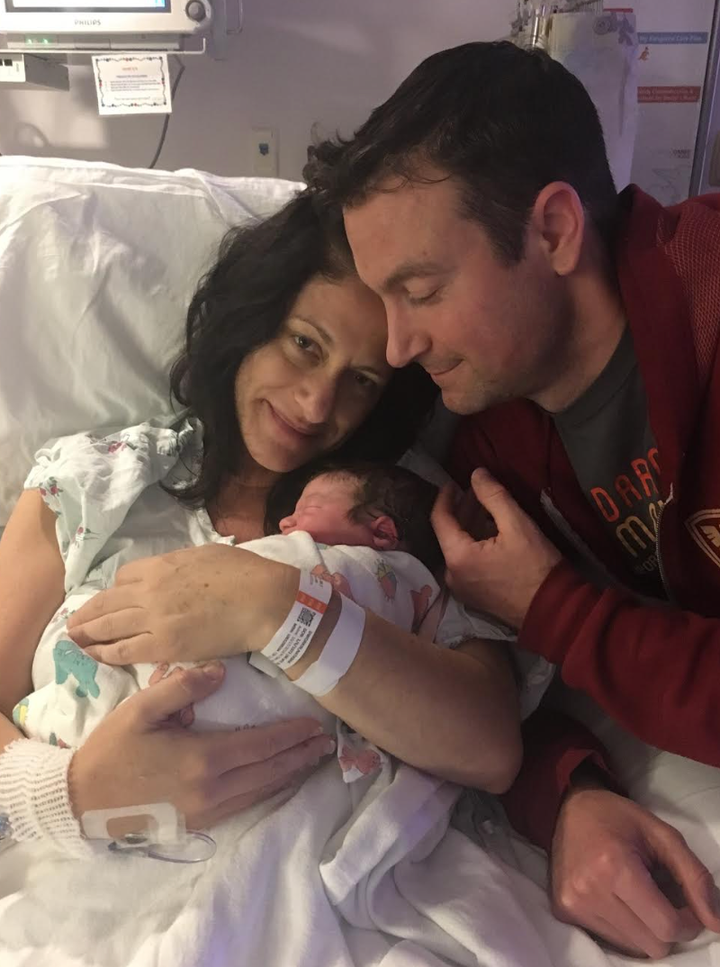 When I finally knew what I was going to do, and when I finally started telling my friends and family about the decision I had made, they realized how improbable my story was. After decades of infertility, I conceived naturally in the middle of my life. Their faces lit up when they learned that as perpetually single I would now have a family with my soon to be born baby and his involuntary father. Texts of congratulations poured in from people I hadn't spoken to in years, cards came in the mail, packages of hand-knit baby blankets and wise, loving notes appeared. People used words like "miracle", "miracle", "blessing", "full circle". And a lot of it was true. It was a miracle. My son was a little miracle.
But a middle-aged mother's journey is rarely so black and white. No matter what path leads us to motherhood, each of us ends up in a place where we have to reconcile the woman we've become for half our lives with the mother we'll spend the rest of our lives. Even after the birth of my son, who was tall and healthy after an uneventful pregnancy, I found that my identity was still firmly rooted in—for lack of a better word—childlessness. I still felt like the woman at the party who couldn't relate to the moms in the corner swapping milestones, like the aunt whose nieces confide in her about things they would never tell their moms, like that single girl secretly glancing at handsome father He is standing in supermarket with his baby wondering if his partner is waiting at home and if it would ever be me.
I still felt like her because I was still her. But now I was also a mother. This awkward dance of identities is one of the more profound struggles later in life as a mother: she spans adjacent chapters, one just beginning, the other unfinished, trying in real time to bridge the two. It's confusing to lose touch with things we always knew. But we also feel the thrill and joy of looking into new places in our hearts we didn't know were there before, and discovering new parts of ourselves in the process.
Four years later I'm a mother and partner and completely immersed in a family of my own. It doesn't look like the family I imagined. My son's father and I stumbled from a non-exclusive relationship to sudden partnership and parenthood within a matter of months. Our road to becoming parents together and eventually starting a family was rocky, but we are a family nonetheless. We have teamed up to bring our child into an environment of love, laughter, kindness and mutual respect. Along the way we had to get to know ourselves and each other and develop a new vision of what the rest of our lives would be like. We're still growing and fiddling and learning every day, but we're some of the most devoted parents you'll ever meet.
And now I'm planning different trips, collecting different stories and working on another book.
On a recent weekend, my partner packed me up and sent me alone to my cottage in the country so I could write, refresh, and connect with the country I grew up in. While I was there, a neighbor invited me to pick apples from her tree. I got a huge bag full and then took it back to town to my boys and made a lovely apple pie. It was a thank you for these two magical souls who made my random dream come true.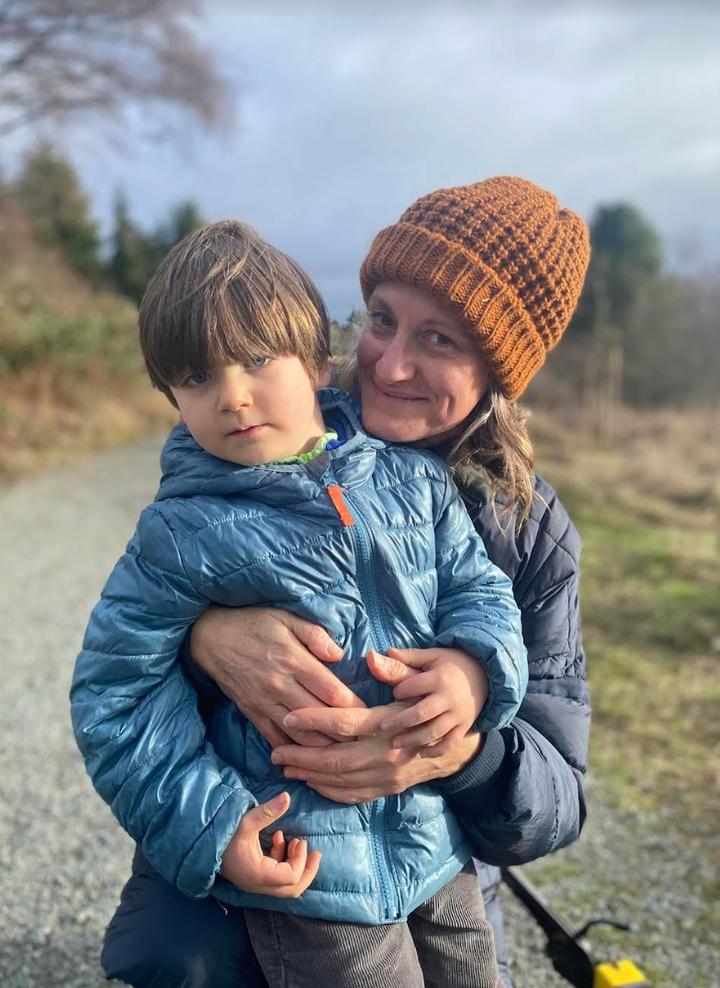 Natasha Dworkin is an agency founder, strategic storyteller, and midlife mom. For more than 20 years she has been helping her goal-oriented clients tell their stories, amplify their impact and change the world. Now she uses her expertise with her personal experience of becoming a mother at the age of 46 to help other middle-aged women create transformative change in their own lives and in their communities. Connect with her through her website, natasha-dworkin.comon Substack at natashadworkin.substack.comand on Instagram at @midlife.mama.
Have a compelling personal story you'd like to see published on HuffPost? Find out here what we are looking for and send us a pitch.