News
"Barbie" director Greta Gerwig welcomes the child
Greta Gerwig has reason to celebrate, and not only her latest film is finally coming to the cinemas.
Barbie director and husband Noah Baumbach, who co-wrote the highly anticipated comedy with her, quietly welcomed their second child four months ago. However, Wednesday was the first time he spoke publicly about him or showed reporters a photo.
"He's a little Schmoo" Gerwig told Elle UK "I don't know if you can see the energy in the picture, but it's definitely his energy. The little guy sleeps through the night. But I still do the thing where I wake up every hour to 90 minutes and just float."
"You just want to keep looking at the baby," she added. "So I'm slightly in a twilight state."
The baby has since joined Gerwig's four-year-old son Harold and her 13-year-old stepson Rohmer, whom Baumbach shares with ex-wife Jennifer Jason Leigh. Gerwig first revealed she was expecting on 'The Tonight Show' in December – after no one took the hint.
"I was at an event recently and wore something that I thought everyone would care so much about if they found out I was having another child." she told Jimmy Fallon. "And nobody cared. And that went unreported, suggesting no one is paying you any attention."
That certainly changed after the first teaser for Barbie came out later that month.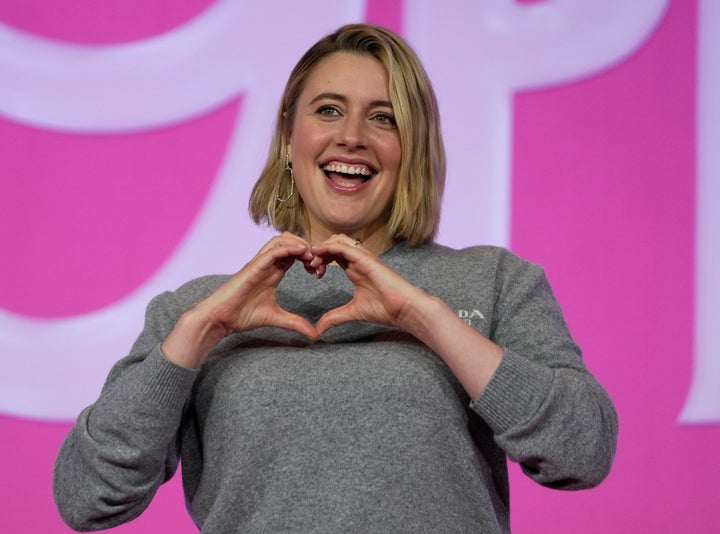 If the first reviews are correct (and the Rotten Tomatoes score of 88% holds on), Gerwig could soon be celebrating the biggest film of her career. While she claimed shortly before her 40th birthday that she was "really middle-aged by now", Gerwig feels "extremely activated".
"I want to start being more playful and edgy," she told Elle UK, recalling how much fun it was wearing long nails and heels during production. "I don't want to look back at 80 and say I really could have made it, from 40 to 60, but I chose to be practical!"
"But we'll see how far I can get with this," she continued. "I'll probably look back and say, 'That was a really great time. And I don't know how it was all possible.' But it is full of happiness."
Barbie hits theaters on Friday.