Believe generated $682 million in annual revenue last year, up 30.7% YoY
Headquarters in Paris Believe announced its financial results for 2021 today (March 17).
The company reported that it increased revenue by 135.8 million euros (30.7%) year-on-year, from 441.4 million euros in 2020 to 577.2 million euros ($682 million) in 2018. last.
These results mark the company's first full-year results since floating on Paris Euronext last summer, where it currently has a market capitalization valuation of 1.21 billion euros (1,2 billion euros). 43 billion dollars).
In the fourth quarter of 2021 (ending December 2021), Believe grew revenue 30.8% year-over-year to reach 173.1 million euros ($205 million). Tin also reported that its digital revenue grew 35.9% year-on-year during the quarter.
Tin reports that its digital revenue grew 33.6% YoY in 2021 and accounted for 90.9% of total revenue for the year, compared with 89% of total revenue in 2020.
The company credits this growth on growth in the streaming market and "solid increase in market share" and "accelerated investment in local teams".
Last year, Believe announced its spending intention EUR € 100 million a year on the acquisition of music companies in various fast-growing territories of the world, with this strategy leading to the acquisition of shares of the labels in Philippines and Indiaamong other markets.
Tin says that expanding its offerings in key markets has been a key driver of revenue growth, which has also been driven by the addition of a significant number of new artists and labels.
The company reports today that it has added 150,000 more artists to its books in 2021 than it has in 2020 (presumably above). TuneCore as well as its artist/label service activities).
Breaking Believe results by region show that the company revenue in Asia Pacific and Africa combined jumped 63.4% year-over-year and accounted for 22.6% of the company's total revenue (compared to 18.1% in FY20).
Total revenue generated by Believe in APAC/Africa last year reached €130.5 million ($154.2 million), compared with €79.9 million in 2020.
News cites "market dynamics, especially in Asia" as yes "remained strong throughout the year" and contributed to this growth.
Additionally, Believe notes that it has expanded offering premium services in a number of countries including India, China and Indonesia, which it added, bolstering its "market position".
In December, Sylvain Delange, Asia Pacific Regional Managing Director of Believe, based in Singapore, state growth strategy and M&A in the Asia Pacific region, and told MBW that "We think Asia Pacific will be the biggest recorded music region in the next 10 years."
---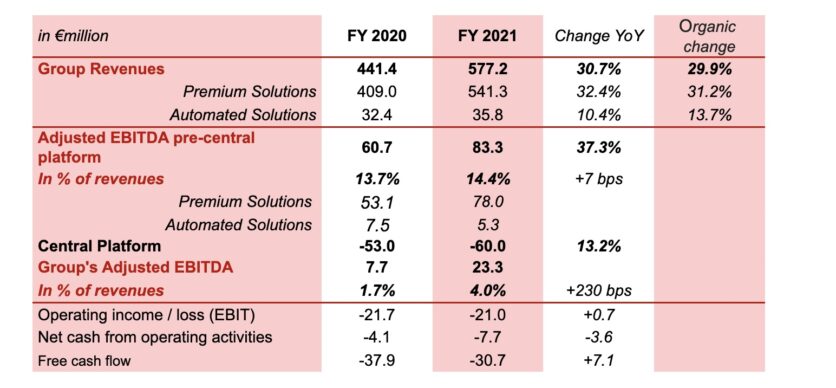 ---
Elsewhere in the world, the revenue Believe generates in Europe (excluding France and Germany) grew 35.4% to €164.7 million ($194.6 million) and accounted for 28.5% of total revenue in 2021 (compared to 27.6% in fiscal year). main 20),
Sales from the Americas grew 35.8% YoY to €83.5 million ($98.6 million) and accounted for 14.5% of total sales (vs 13.9% in FY'20).
In France, Believe sales increased 18.5% year-on-year to 96 million euros ($113.4 million) in 2021, fueled by strong performance of artist services activities. company and "further growth in artist and label solutions."
In Germany, revenue grew 5.2% to 102.4 million euros ($121 million) in 2021.
France and Germany account for 16.6% and 17.7% of Believe's total sales in 2021, respectively, compared with 18.4% and 22.0% in FY20, respectively.
Believe's adjusted EBITDA amounts to €23.3 million ($27.5 million) in 2021, a significant increase from the previous year (€7.7 million).
"In 2021, Believe has once again proven its ability to deliver strong and profitable growth while continuing to invest for the future."

Denis LadegaillerieBelieve
Denis Ladegaillerie, Founder and CEO, said: "In 2021, Believe will once again demonstrate its ability to deliver strong and profitable growth while continuing to invest for the future. future.
"We are very proud to have attracted and supported the growth of a record number of great independent artists and labels around the world over the course of the past year. We've continued to invest in hiring and training the best in our industry and building innovative digital technologies to be the best monetization and growth platform for music artists. digital.
"A motivational foundation of respect, fairness, transparency and expertise at the center of 'Shaping Music for Good', our CSR programme. We ended the year in a good quarter and delivered operating and financial results that were above the initial targets presented at the IPO, a major milestone for the year.
"The current world situation will have short-term consequences, but the resilience of our model will allow us to reap the benefits of the music market's long-term growth and transformation. digital and digital artists."Worldwide music business
https://www.musicbusinessworldwide.com/believe-generated-682m-in-revenues-last-year-up-30-7-yoy/ Believe generated $682 million in annual revenue last year, up 30.7% YoY