Ben Stokes leads England's comeback after South Africa took control of the first Test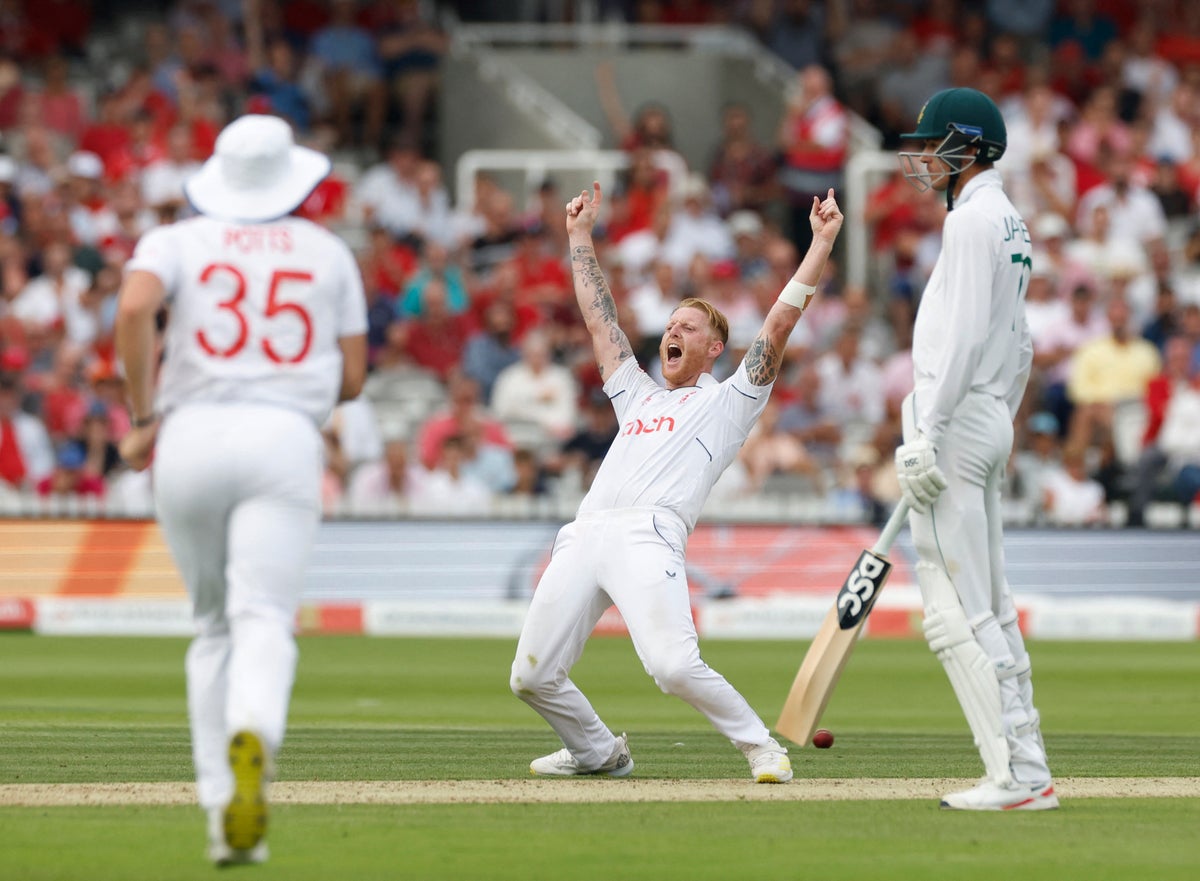 England had lost every session of that Test game convincingly up to tea on the second day and were snaking into a huge first innings deficit as the unlikely duo of Ben Stokes and Jack Leach – where have we heard that before? – summoned a spell of violent impact and real spin to disrupt South Africa's momentum.
The Tourists still have a commanding 124-run lead after stumbling at 289-7, bolstered by a late set of runs from bowlers Keshav Maharaj and Marco Jansen after toppling their hosts for just 165 earlier in the day led by Kagiso Rabada's five-wicket haul. But as the sun began to set, the home fans would have left a buzzing Lord's with a small cheer after seeing their captain lead the kind of comeback that has become a familiar part of England's weird and wonderful summer.
England's success under Brendon McCullum has so far relied on subverting convention and again they needed something different. James Anderson, Stuart Broad and Matthew Potts had bowled well on points but South Africa scored too easy goals throughout the afternoon and reached the tea 158-2 in total control. Leach's left arm might not have been the answer on day two of a test match at Lord's, but he immediately found a crack from the surface and turned a beauty that feathered the edge of Aiden Markram's racquet to Ben Foakes's change of gloves to set the mood.
From the other end, Stokes began smashing short balls into the field, and eventually he ousted seemingly unflappable attacker Seral Erwee to 73 with a bouncer who shot the batsman's jaw; Erwee parried the ball with his gloves and sent it into orbit for an easy catch for keeper Ben Foakes. A few overs later, Stokes celebrated again after catching Rassie van der Dussen, who checked to no avail and got a word in Joe Root's ear on the way to the pavilion for wasting everyone's time. Broad had been the least effective of England's bowling attack, so it was even more satisfying when late in the day he located the thinnest edge of Kyle Verreynne's bat before Maharaj fell to Stokes.
England might wonder what could have been. Had Stokes won the toss, it might have been his side who would have scored runs on day two after taking advantage of Wednesday's inviting bowling conditions. Maybe if Ollie Pope hadn't had the misfortune to pull an inside edge on his own stumps on the third morning of the morning, he might have gotten a crucial century. Instead, he was gone for 73 and England's tail was exposed.
But it still took plenty of South African skill to take the wickets that killed England's innings. Rabada made one aim for Pope after a barrage of swingers away, then cheated Broad for 15 with a slower ball, which he cheaply chipped to the point. Leach's off-stump was sent cartwheeling by Jansen and Rabada finished England in the next over and sealed his five-for when he locked in James Anderson lbw for a golden duck. Running numbers 5-52, Rabada led South Africa back to the pavilion and raised the ball to polite applause.
South Africa's innings began with the familiar sight of the now 40-year-old Anderson running in from the Pavilion End. He bowled predominantly across the wicket to the opening left-handed partnership of captain Dean Elgar and Erwee, who employed some notable anti-bazball hands to parry the new ball, while Broad struggled to triangulate his angles going from the nursery end around the wicket came . First bowler Potts came closest to a wicket before lunch, bringing a top edge from Elgar's bat that Zak Crawley had a fingertip but not firm grip on as South Africa cruised in the sun.
With the opening games settled and Elgar on the cusp of half a century, Anderson happily broke through as the ball rattled around the South African captain, smacking his arm and leg before finally hitting the stumps and removing the stirrups . Keegan Petersen established a new partnership with Erwee until Potts tricked him into a flail outside the stump which flew into Pope's hands on the fourth slip before the tee and shortly after Leach and Stokes stepped in to really loosen South Africa's grip .
But in the final overs Jansen and Maharaj have had fun adding to South Africa's cushion – Jansen hit a monstrous six in front of Stokes as the light faded before Maharaj was caught in the deep – and Rabada will join Jansen on Friday morning in hopes of more Accelerating escort into the distance on what is expected to be another friendly sunny day.
England will be encouraged by what they have already achieved this summer, not least by hitting fewer first-inning runs and still winning the game at Lord's against New Zealand in June. This may have to be their most impressive magic trick yet, but Stokes and Leach have at least given them hope and that's all this team seems to need at the moment.
https://www.independent.co.uk/sport/cricket/england-south-africa-score-lords-first-test-b2147704.html Ben Stokes leads England's comeback after South Africa took control of the first Test