News
Beyoncé is seemingly teasing a possible haircare line, and Twitter users are madly in love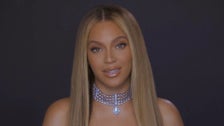 Is there really anything Beyoncé can't do?
On Tuesday the legendary singer shared a carousel of images on Instagram to celebrate her "hair journey." Now, Beyhive can't stop speculating on Twitter that Queen Bey is preparing to launch her own hair care line.
In the first film, Beyoncé is seen bare-faced in front of a vanity mirror, holding a curling iron, in front of what appear to be unlabeled bottles and jars filled with products. She also posted a retro picture of herself getting her hair braided in a barber chair as a child.
"How many of you knew my first job was sweeping hair at my mom's salon?" the 41-year-old star wrote on the third slide. "Destiny's Child started out with us performing for clients while they were getting their hair done. I have met so many enterprising women in her salon."
"I've seen firsthand how the way we groom and celebrate hair can have a direct impact on our soul," the Grammy-winning artist continued, adding that she's "always dreamed of it." to carry on her mother's "legacy" as a hairdresser.
"I have seen her healed and helped so many women. Having learned so much on my hair journey, I have always dreamed of continuing her legacy. I can't wait for you to experience what I have created," she wrote. She then signed the heartfelt message with a heart and her initial "B."
Of course, fans on Twitter are already enamored at the thought of the superstar launching a haircare line.
Beyoncé's reps did not immediately respond to HuffPost requests for comment.
The multi-platinum singer is currently touring for her hugely successful seventh studio album, Renaissance.