News
Biden hits House Republicans with three words on impeachment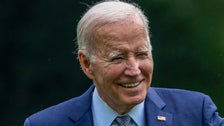 If President Joe Biden is bothered by the impeachment inquiry ordered by House Speaker Kevin McCarthy (R-Calif.), he doesn't show it.
The president was asked what he thought of the action as he returned to the White House on Sunday from a weekend in Delaware.
He smiled and then simply said three words: "Good luck!"
McCarthy opened the investigation last week, claiming Republican lawmakers had uncovered "serious and credible allegations" against Biden.
But if such evidence exists, it has not been made public — and even some Republican lawmakers are skeptical.
Representative Ken Buck (Republican of Colorado), a staunch conservative and member of the right-wing Freedom Caucus, said last week that impeachment proceedings should only be initiated if there is evidence of high crimes and misdemeanors.
"That doesn't exist right now," he said on MSNBC.
The White House criticized McCarthy.
"He vowed to hold a vote to begin impeachment proceedings, but now he has backed down because he has no support," White House spokesman Ian Sams said last week. "This is extreme politics at its worst."