News
Bill Barr says he would testify at Trump's Jan. 6 trial if called upon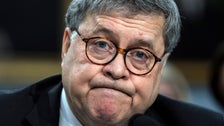 Former Attorney General William Barr said Sunday he would testify in the Jan. 6 criminal trial of Donald Trump if called, adding that he believes the case against the former president is legitimate.
Speaking on CBS News' Face the Nation on Sunday, Barr told host Major Garrett he didn't believe in the case – Trump's second federal indictment ― violated his First Amendment rights.
"From a prosecutor's perspective, I think it's a legitimate case," Barr said. "But I think there are other considerations and I would have taken those into account."
Barr continued to reiterate comments he made shortly after Trump was indicted in four offenses related to his efforts to remain in power after losing the 2020 presidential election to Joe Biden. Prosecutors are charging him with a multifaceted conspiracy aimed at defrauding the United States, obstructing an official process, and depriving Americans of the right to vote.
The former president has regularly blasted special counsel Jack Smith – who has also indicted him over his handling of classified documents – and his lawyers have claimed his efforts to spread lies about voter fraud amounted to protected speech under the Constitution.
Barr denied that claim earlier this month, an assessment he reiterated on Sunday.
"I don't think it conflicts with the First Amendment," he said on CBS. "The government's charge is essentially that … the President conspired and set up a plan, a plan that involved a lot of deception and the aim of which was to erase those votes, to nullify those legitimate votes."
"This isn't about his subjective perception of whether he won or lost," Barr added. "You say you knew what you kept saying, what you were saying, was wrong."
Barr refused to say if he had been interviewed by Smith. But Garrett asked the former attorney general if he would testify if the case went to trial.