News
Bill Lee, jazz musician who composed early films for his son Spike Lee, has died aged 94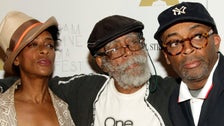 NEW YORK (AP) — Bill Lee, a respected jazz musician who has backed artists such as Bob Dylan, Simon and Garfunkel and Harry Belafonte, and scored four of his son Spike's early films, including the hit "Do the Right Thing." and two songs for "Jungle Fever" are dead. He was 94.
Lee died Wednesday at his home in Brooklyn, said Theo Dumont, a publicist for Spike Lee. The younger Lee posted several photos of his father announcing the death on his Instagram page.
Lee was a session bass player who has played on albums by Odetta, Woody Guthrie, Cat Stevens, Gordon Lightfoot, John Lee Hooker and Peter, Paul and Mary, among others. He can be heard on Dylan's It's All Over Now, Baby Blue and Lightfoot's Oh, Linda. He played on Aretha Franklin's Columbia debut album Aretha in 1960.
Lee wrote the soundtracks to Spike Lee's She's Gotta Have It, School Daze, Do the Right Thing and Mo' Better Blues. Bill Lee also appeared in Do the Right Thing. Terence Blanchard took over the role from "Jungle Fever".
Bill Lee and Spike Lee became estranged after a falling out in the 1990s, which the father attributed to his remarriage to Susan Kaplan.
In addition to Kaplan and Spike Lee, the elder Lee is survived by sons David, Cinque and Arnold; a daughter Joie; one brother, A. Clifton Lee; and two grandchildren.