Brit Matt Hudson-Smith reveals suicide attempt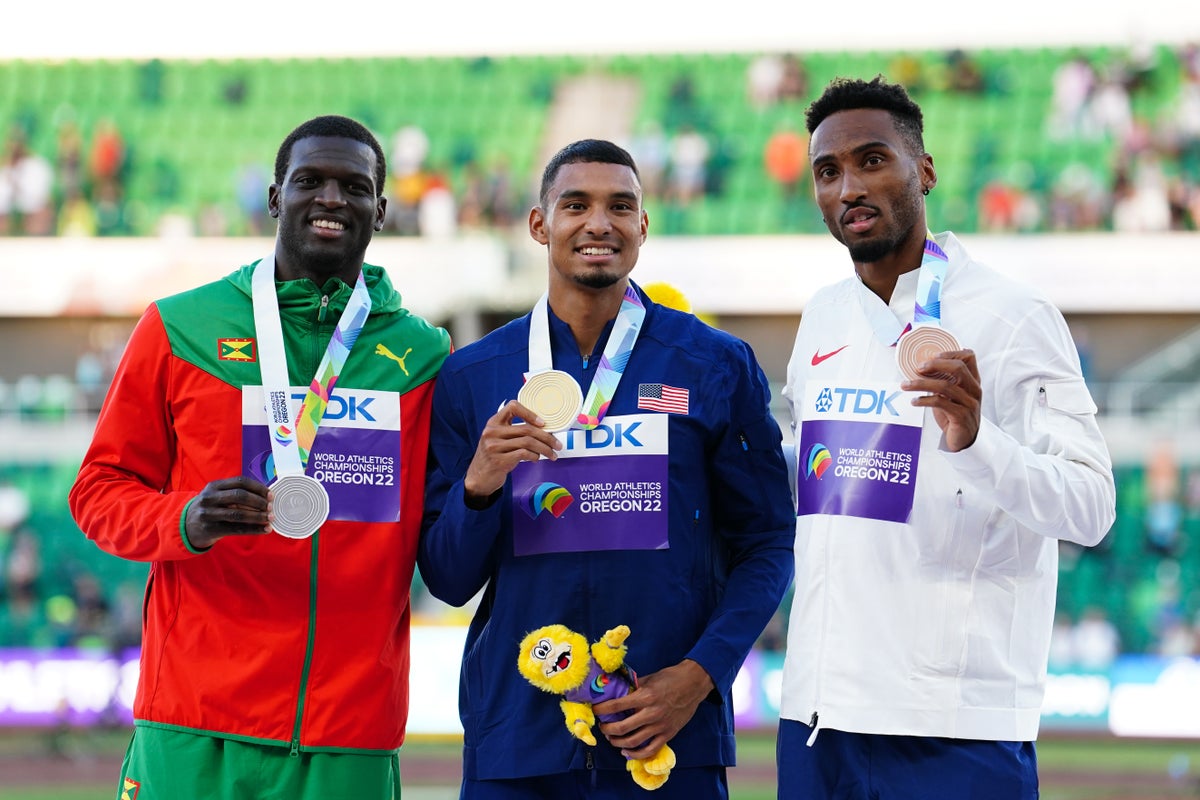 Briton Matt Hudson-Smith revealed that he spent three years in "absolute hell" trying to commit suicide.
The 27-year-old won bronze in the 400m at Friday's World Championships but admitted he had suffered from mental health issues during a couple of injury-plagued years.
The European champions stayed 44.66 seconds behind USA's Michael Norman and Kirani James of Grenada, who took silver in Eugene.
Overcoming hamstring, hamstring and hip injuries that have dashed his hopes at the track since 2019, Hudson-Smith bravely described the struggle in which he attempted to end his life after winning his medal in America.
"I had major mental health issues in 2021. Not many people know this, but I literally attempted suicide," he said.
"I've been racing knowing I was injured all the time and I've been racing knowing I'm not 100 percent fit. I couldn't do the Olympics for a number of reasons.
"Everyone that was around me from my agent to my coach, my family, my girlfriend, honestly… a lot of people would have blown it, it's just the best support.
"During Covid I was stuck alone in America. I love America but I wanted to be with my family. It was hard.
"It was an emotional roller coaster ride. Imagine stepping onto the line knowing you're hurt. You have a lot of pressure because everyone expects a lot from you. You expect a lot from yourself.
"I made a decision in 2017 that I didn't want to be one of those what-if people. I wanted to take the big step to get a medal. Actually, I could have stayed in Birmingham. i love birmingham
"I never thought I would leave Birmingham. When I moved, it was now or never. You don't want to look back and think, 'I could have done this or that'."
Hudson-Smith, who now lives in Florida, also admitted his injury woes caused him to rack up significant debt that compounded his problems while also losing sponsors.
"I didn't have insurance. I have a huge debt. I remember talking to a lot of people about not doing the sport," he said.
"My mom and my girlfriend were like, 'Give him a year.' I wanted to be an electrician and then of course I tried to get my green card.
"Things work mysteriously because my green card was rejected. My mom and others said, "Listen, just do this," and now I have this medal.
"I paid them (debts) all off. Luckily I was picked up by Puma. You have helped a lot."
It was Britain's fourth medal in Oregon after Laura Muir won the 1500m bronze, Dina Asher-Smith the 200m bronze and Jake Wightman's stunning 1500m gold.
Hudson-Smith stated before the Championships that he was ready to give up athletics in 2014 and had applied for the Army while working at Asda.
But he persevered and the Wolverhampton runner broke the 25-year-old British record set by Iwan Thomas at Hayward Field in May when he ran 44.35 seconds.
At the same track he couldn't beat his time on Friday, Norman ran 44.29 seconds and James 44.48 seconds.
Mentored by 2008 Olympic 400m champion Christine Ohuruogu, Hudson-Smith, having overcome his struggles, believes his medal proves he can compete at the top.
He said: "I always knew I could and had the potential to win a medal. It only solidifies it. I saw everything and maybe I silenced a few people. They might have said I should have stayed home, I heard everything and they can't really say anything now.
"All year my coach says 'the race is lost in the last 20 meters'. In the semifinals I looked to the right and lost my momentum. So in the finale I was like, "Don't look at the clock, don't do anything." So I was just happy.
"It was an anxious wait and then I saw my name and just fell on the floor because those three years have been absolute hell."
https://www.independent.co.uk/sport/great-britain-grenada-christine-ohuruogu-birmingham-green-card-b2129606.html Brit Matt Hudson-Smith reveals suicide attempt