News
California city renames street after rapper Tupac Shakur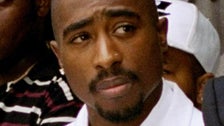 OAKLAND, Calif. (AP) — The late Tupac Shakur will have a section of an Oakland street renamed after him, following a unanimous decision by the city council on Tuesday.
Shakur was born in Harlem and later lived in Baltimore, Maryland; and in Marin City, California, however, named Oakland as the place where he got his "game" and started his career, according to the legislation that approved renaming the memorial street.
A section of MacArthur Boulevard on Lake Merritt where Shakur once lived retains its previous name but is given the additional honorific Tupac Shakur Way. Plaques and signs noting the change are being funded by the Tupac Shakur Foundation.
Oakland has honored others with street names, including Black Panther Party co-founder Huey P. Newton and rapper and record producer Too Short.
Shakur was 25 when he was shot dead in a 1996 drive-by shooting in Las Vegas.
City Council legislation provides that the renamed portion of the street will remind people of Shakur's contributions to Oakland and celebrate arts and culture as a catalyst for societal change.
No timeline was given for the name change.