Call of Duty: Modern Warfare 2 Season 2 only adds two "new" 6v6 multiplayer maps, but they're not really new
Activision finally confirmed what Call of Duty: Modern Warfare 2 6v6 multiplayer fans can look forward to from Season 2.
The company said two "new" maps will be coming to the shooter as part of Season 2: Dome and Valdera's Museum.
However, fans have had issues with Activision calling these cards new. Dome is a remake of a map that has appeared in several Call of Duty games in the past, including 2021's Vanguard. It made its debut in Call of Duty: World at War. In particular, the version that this Modern Warfare 2 aims to hit comes from Infinity Ward's 2011 game Modern Warfare 3.
And Valdera's Museum was available to play in the Modern Warfare 2 beta before it was mysteriously missing from the game at launch. Valdera's Museum, set in Spain, was a controversial map during beta, with players complaining that it was way too big for 6v6 play and had too many open LOS.
Some players speculated that the card's removal had something to do with its striking resemblance to the real Getty Museum in Los Angeles. It will be interesting to see if any changes are made for his return.
Anyway, Modern Warfare 2 6v6 fans feel badly hit and point out – once again – that Modern Warfare 2 has suffered from a lack of content compared to the free-to-play battle royale Warzone 2.0 and even the DMZ mode.
In truth, Activision hasn't released a truly brand new 6v6 map for Modern Warfare 2 in the four months since its release in October of last year. Season 1 added fan-favorite maps Shoot House and Shipment, found in pretty much every Call of Duty game. Perhaps Season 3 will prove more fruitful.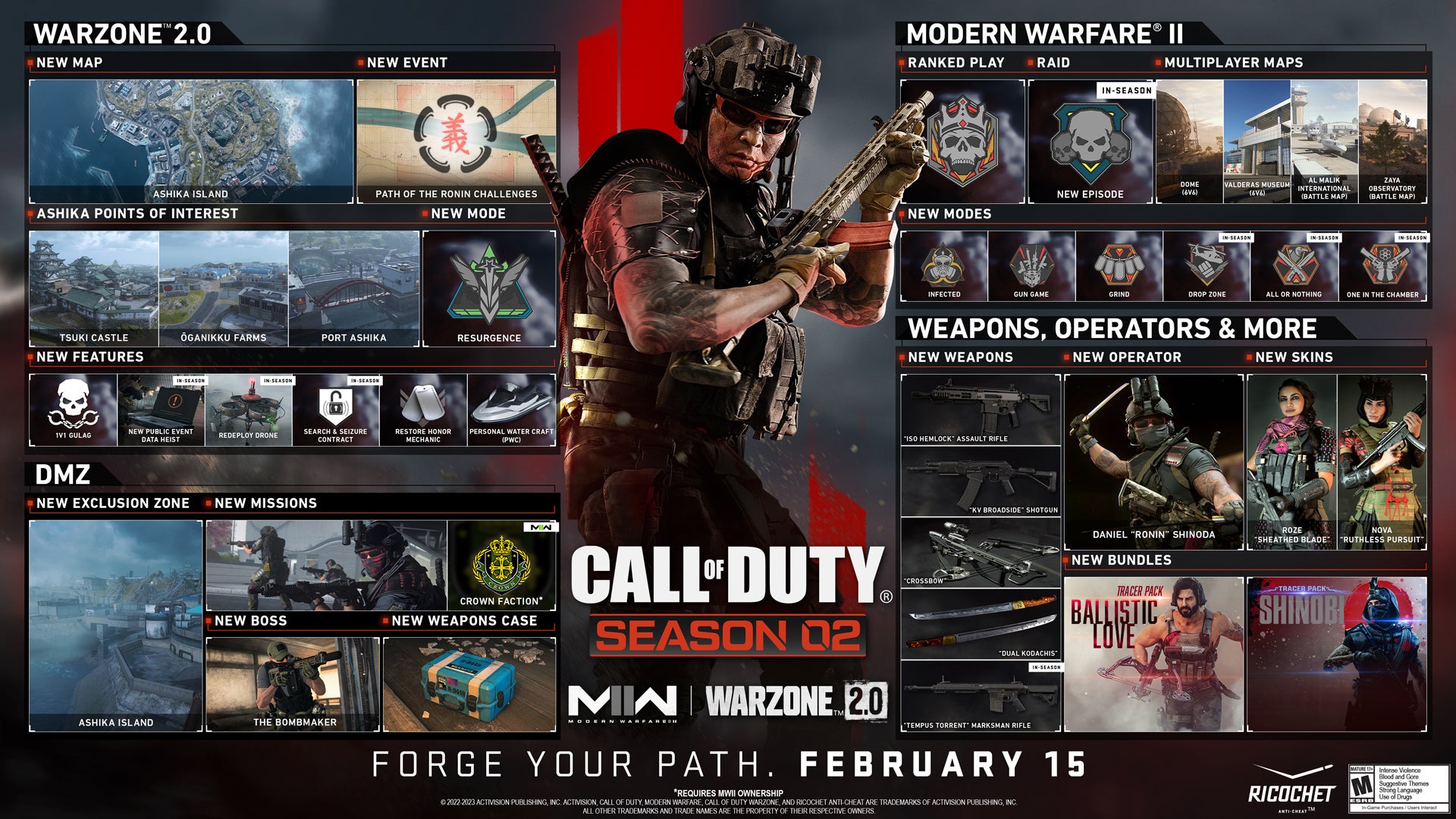 Elsewhere, Season 2 adds two new combat maps for use in Ground War and Invasion. These maps highlight parts of the Warzone 2.0 map and make them available for large-scale multiplayer modes. And as you might expect, Season 2 brings new weapons, a new operator, and new skins.
As announced, Season 2 adds ranked matches to Modern Warfare 2's multiplayer mode. New modes include Infected, Gun Game, and Grind at launch, as well as Drop Zone, One in the Chamber, and All or Nothing "in Season." And finally, hardcore mode returns.
Season 2 starts on February 15th.
https://www.eurogamer.net/call-of-duty-modern-warfare-2-season-2-adds-just-two-new-6v6-multiplayer-maps-but-theyre-not-really-new Call of Duty: Modern Warfare 2 Season 2 only adds two "new" 6v6 multiplayer maps, but they're not really new