News
Cardi B throws microphone at concert-goer, who douses her with alcohol on stage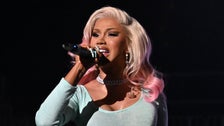 Cardi B wasn't having fun with an audience and threw her microphone at them after they threw their drink at her at a show in Las Vegas on Saturday.
The rapper, who was performing at Drai's Beachclub for Moneybagg Yo, was performing her hit song "Bodak Yellow" when the concert-goer threw the liquid from the crowd at her.
Cardi, who seemed surprised by the act, threw the mic in the concert-goer's direction before security arrived and wheeled him off the stage.
HuffPost reached out to a representative from Cardi B and Drai's Beachclub. Both were not available for immediate comment.
Cardi later tweeted a video of the encounter with the caption, "Jealous ass bitch", a reference to her new single "JEALOUSY" with her husband Offset.
The microphone throw comes as fans have been throwing objects at or hitting entertainers for the past several weeks.
The rapper's weekend also reportedly included another mic throw at Drai's Beachclub.
Cardi appeared to throw her mic at a DJ who fans claim cut off her tracks during an on-site performance on Friday. according to a Tiktok video.