News
Chris Christie names the Trump insider he believes was secretly flipped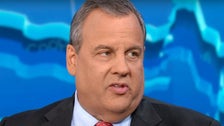 Former New Jersey Gov. Chris Christie said Donald Trump had major concerns over a close member of his inner circle from his final year in office.
"I've been saying all along that I think Mark Meadows is already a cooperating witness," Christie told CNN's Anderson Cooper on Monday. "He looks like a cooperating witness, running into cafes away from the press."
Meadows served as White House chief of staff for much of the last year of Trump's presidency, including the post-election period, which is the focus of indictments over federal allegations of voter obstruction and conspiracy.
Christie, who was also a member of Trump's inner circle at the time, said the former president must have particular reason to be concerned about Meadows' possible collaboration.
"In my experience, he was a very dedicated chief of staff," Christie said. "He made sure he was present at every meeting and every conversation. And we remember that he passed hundreds of text messages to the special counsel he is supervising."
Christie said Meadows could make the "worst testimony" against Trump by anyone but family members.
Several observers believe Meadows may be cooperating with prosecutors given his months of silence. That belief was only reinforced by the indictment, which makes little mention of Meadows despite his close involvement in White House activities in the period between the 2020 election and the Jan. 6 attack on the US Capitol.
Christie was one of the first prominent Republicans to endorse Trump in 2016 after he gave up his own presidential campaign, and was close to him for much of his presidency — even contracting a COVID-19 infection and helping get Trump onto the Prepare for debates in 2020.
Christie has since become a Trump critic and is running against him for the Republican presidential nomination.
See more of Christie's conversation with Cooper below: