News
Chris Sununu reprimands New Hampshire audience for conduct at CNN's Trump Town Hall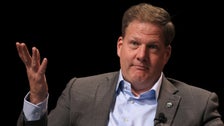 New Hampshire Gov. Chris Sununu slammed Republicans and black voters in his home state for "embarrassing" behavior at CNN's citizen event with former President Donald Trump earlier this week. (You can see his comments in the clip below)
Sununu, who is pondering whether to run for the 2024 presidential election, was met with laughter and applause from the crowd throughout the evening as he spoke with MSNBC host Jen Psaki in a preview of an interview scheduled to air on Sunday.
"These are people in the audience from New Hampshire, New Hampshire Republicans, black voters in this room — I was curious how you reacted when they started laughing?" asked Psaki, a former White House press secretary under President Joe Biden.
"It was embarrassing," Sununu replied.
Sununu claimed he "knew pretty much everyone was a Trump supporter at City Hall," before slamming the crowd for laughing as former President E. Jean Carroll taunted him, who won a lawsuit against Trump after a jury this week found him guilty of sexual abuse.
"I wasn't surprised to hear the support, but when you talk about a serious issue like this and you're talking about laughter, ridicule and all that, without a doubt, that's totally inappropriate," he said.
"It doesn't reflect positively on New Hampshire. But again, I understand what the composition of the audience was like."
Sununu has been a harsh critic of Trump in recent months, declaring that the country is "moving on" and announcing that Trump will not be the Republican presidential nominee for 2024.
The New Hampshire governor recently urged Trump to "get on your feet" and "sat in the saddle" after reportedly wanting to skip at least one of the early Republican debates.
Sununu, in his interview with Psaki, hinted at the possibility that viewers would also vote for him in 2016 or 2020.
"Maybe they're undeclared voters, but I think every single one of them voted for Trump at some point," he said.
"So it shouldn't have surprised anyone to hear the support, but as far as that subject goes, it was… I would call it embarrassing."