News
Claire McCaskill has a frightening prediction for Kevin McCarthy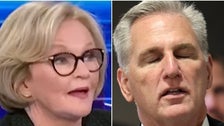 Former Sen. Claire McCaskill (D-Mo.) says a shutdown seems inevitable as House Republicans can't agree on a spending deal to keep the government open.
And that, she said Wednesday night on MSNBC, could force House Speaker Kevin McCarthy (Republican of California) to give up the gavel within weeks.
"Here's the problem he has: In order to stop the government from shutting down or reopening it, he has to appeal to Democratic voters," she said. "And that means he can no longer be speaker."
But McCaskill urged him to do it anyway.
"Kevin, here's the thing: It's going to be painful," she said. "Rip the damn Band-Aid off. Confront these extreme people in your caucus and say, 'Exclude me if you can, but I will do what's best for this country and, frankly, what's best for the party.'"
There is only one problem.
"But he seems like a really bad negotiator and a really big coward," she said.
McCaskill said a shutdown seemed inevitable and that McCarthy would need Democrats to end it — and those extremists would then turn against the speaker.
This could lead to frightening news for McCarthy before Halloween.
"I'm assuming that before we go trick-or-treating, we'll call someone else to speak," she said.
Watch the full conversation with MSNBC's Alex Wagner and Joy Reid below: