News
Climber denies ignoring dying Sherpa during K2 climb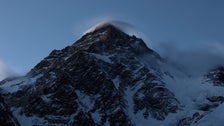 A mountaineer has denied allegations that she over-climbed Himalayan mountain K2 on the Pakistan-China border during her record-breaking ascent and failed to help a dying Sherpa.
Harila, 37, completed the trip to K2 with Nepalese Sherpa Tenjen (Lama) Sherpa on July 27. Her ascent of all 14 of the world's highest mountains took 92 days, breaking a record of more than three months held by Nirmal "Nims". Purja.
But the victory came with some alarming allegations and criticism related to events during the ascension.
At around 8,200 meters (nearly 27,000 feet) on K2 is a Pakistani Sherpa, Mohammed Hassan, fell from a steep ledge and was injured, The Guardian reported. Photos taken that day appeared to show Hassan seated on the ridge while climbers, including Harila, walked past him rather than trying to save him. Video material The picture taken by two Austrian climbers seems to show the same thing.
The two Austrian witnesseses, Wilhelm Steindl and Philip FlämigAccording to the Austrian standard, Hassan was left to die by the other climbers The Telegraph in Britain.
"Everything can be seen in the drone images," said Flämig. "He's being treated by one person while everyone else is rushing to the summit. The fact is that there was no organized rescue operation, although Sherpas and mountain guides were there who could have intervened."
Harila denied those allegations on Thursday, claiming she and her team tried to help Hassan but the conditions were too dangerous for him to move. She added that her team did not see him with gloves or a down jacket and that he was not carrying oxygen when they found him.
"It's just not true to say we haven't done anything to help him," she told The Telegraph. "We spent an hour and a half trying to get him back up and my cameraman stayed on for another hour to look after him. He was never left alone."
She added: "Given the circumstances, it's hard to imagine how he could have been saved. He fell on what is probably the most dangerous part of the mountain, where the chances of snatching someone away were limited due to the narrow trail and poor snow conditions."
The 2008 tragedy happened at an infamous spot on the mountain known as Bottleneck – the same spot where Hassan fell and died.