News
CNN's Erin Burnett lets Rep. George Santos watch a supercut of his biggest lies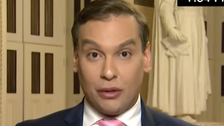 Burnett aired a supercut of Santos' lies, from his false claims about his family background and education to his career and athletic ability.
The "Outfront" host then asked Santos to explain why he said them.
"Erin, you know what would be great? I'm not distracting," Santos began.
Then came the distraction.
"But I'll just call you here and CNN. Have you put Joe Biden on the network and talked about all the things he's said over the last 46 years because I haven't seen it?" he asked.
Biden is "completely irrelevant" to the question, Burnett said.
Burnett then countered Santos' suggestion that he only went on air to discuss House Speaker Kevin McCarthy's (R-Calif.) call for an impeachment inquiry against Biden. She reminded Santos that he had been told he would face questions on a range of issues. "They were aware of this and it would be unfair to suggest otherwise," she added.