News
DeSantis and Trump are at odds over who handled the COVID-19 pandemic worse
Florida Gov. Ron DeSantis (right) and Donald Trump, both declared candidates for the 2024 presidential election, berate each other about how they have dealt with the COVID-19 pandemic.
Although most critics of Trump's actions during the pandemic have accused him of doing so hollowing out During a podcast appearance Thursday, DeSantis claimed that Trump actually gave too much power to Dr. Anthony Fauci, then-director of the National Institute of Allergy and Infectious, by downplaying public health guidance, downplaying the seriousness of the disease and touting a litany of unconfirmed treatments for diseases throughout the pandemic.
"I think he did a great job for three years, but when he gave the country to Fauci in March 2020, it devastated the lives of millions of people," DeSantis said of Trump on The Glenn Beck Program a day after announcing his candidacy ". . "And in Florida, we were one of the few that stood up, went against the grain, took on the onslaught of the media, the bureaucracy, the left and even many Republicans, kept schools open and businesses preserved."
In reality, Florida had that third highest number of COVID-related deaths in 2021, according to data from the Centers for Disease Control and Prevention. Measured by deaths per capita, Florida 18th place among the states for this year. Data shows that blue states generally had the lower death rates, while red states had the highest.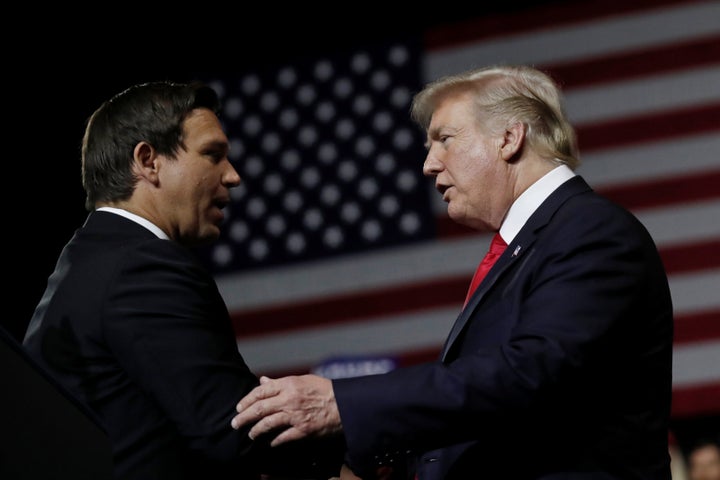 Trump card again and again ignored and undermined Fauci's guidance on the pandemic and was vocal in his criticism when the doctor's comments on the health crisis diverged from Trump's vision of reopening the economy.
in one campaign video On Thursday, Trump delivered his own smack on DeSantis, saying he was the one who mismanaged the COVID-19 response.
"When the facts about Ron 'DeSanctimonious' come to light, you will see that he is better than most Democratic governors but very average at best compared to Republican governors who have done a fantastic job," Trump said in a campaign video.
"Self [former New York Gov. Andrew] "Cuomo did better," Trump hurled at DeSantis, citing each state's COVID-19 deaths. "He closed everything, including the beaches."
Neither does Trump, from a public health perspective nor DeSantis has done a good job of protecting people during the COVID-19 pandemic and both have put many people at risk political gainsay infectious disease critics and experts.
DeSantis made another dig at Trump during an appearance on The Ben Shapiro Show on Friday.
"He has answered [to the pandemic] by promoting Anthony Fauci and really handing the reins to Dr. Fauci surrenders, and I think that would have terrible consequences for the United States."
DeSantis claimed he would have ousted Fauci had he been in Trump's place during the early years of the pandemic.
"When I'm president — someone like Fauci is in government, I'm going to involve him and tell him two things." "You're fired," the Florida governor said, though the president didn't really have the power outright firing someone like Fauci who wasn't a political appointee.