News
Documents reveal the FBI uncovered alleged conspiracy to assassinate Queen Elizabeth during a US visit in 1983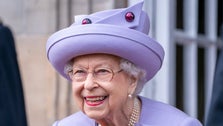 Newly published Documents The FBI revealed there was a potential danger of assassinating Britain's Queen Elizabeth II during her trip to the US over 40 years ago.
The late Queen Elizabeth, Britain's longest reigning monarch, was due to visit the US with her husband, Prince Philip, in 1983. More than 100 pages of documents released by the FBI on Tuesday detail a serious threat leading up to that trip and security concerns raised during the Queen's other visits to the United States
The documents were released publicly on the FBI's website under a Freedom of Information Act Request from NBC Newsreveal that on February 4, 1983 – just weeks before the royal couple were due to arrive in the United States – an unknown San Francisco police officer had received a tip about the possible conspiracy to assassinate the Queen
According to the documents, a man said he was "attempting to harm Queen Elizabeth II" and that he planned to kill her, either while she was in Yosemite Park or "by throwing an object from the Golden Gate Bridge onto the." dropped the Golden Gate Bridge". the Royal Yacht Britannia when sailing beneath."
The documents did not contain any information on whether arrests were made after the threat.
According to the documents, the man claimed his daughter was killed by a rubber bullet in Northern Ireland.
The trip to the United States in 1983 took place over a decade-long period Religious conflict in Northern Ireland known as the problems. During this time the unionists, most of whom were Protestants, wanted to persuade Northern Ireland to do so stay in the UKwhile the Nationalists, many of whom were Irish Catholics, and the Irish Republican Army wanted it to join the rest of Ireland.
During the bloody conflict, which lasted 30 years until a peace agreement was signed in 1998, the British deployed their military to Northern Ireland.
The FBI Closely monitored The Queen's visits to the US over the years with the help of US Secret Service and security continued to be a cause for concern.
"While [the FBI] "I don't know that there are specific threats against the Queen. The possibility of a threat to the British monarchy from the Irish Republican Army is ever present," the FBI wrote in a document ahead of the Queen's visit to Kentucky in 1989.
On another visit in 1991, Irish groups organized protests at a baseball game and a White House event where the Queen was due to appear, according to a document.
The FBI cited an article published in the Irish Edition, a Philadelphia newspaper, that said "anti-British sentiments are running high" in the run-up to their trip.
The document added that while there were no threats against the Queen or the President, who would also be attending the events, the comments "could be viewed as inflammatory".