News
"Dolly Parton covers 'Let It Be' with surviving Beatles"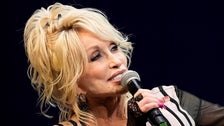 Dolly Parton didn't just let this song go – and that was a good thing.
On Friday, the country music icon released a moving cover of the 1970 Beatles classic "Let It Be" in collaboration with two surviving band members, Paul McCartney and Ringo Starr. Also featured were rockers Peter Frampton and Fleetwood Mac's Mick Fleetwood of the star-studded collaboration.
"Well, is there anything better than singing 'Let It Be' with Paul McCartney, who wrote the song? He also played the piano!" Parton said in a statement about the new release. "Well, it got even better with the addition of Ringo Starr on drums, Peter Frampton on guitar and Mick Fleetwood on drums."
"Thank you Dolly for making my song," said the English singer-songwriter. "I love your version and am very happy to be by your side. Keep going !"
The track is part of Parton's upcoming Rockstar album, which is set to include nine original songs and a variety of covers.