News
Donald Trump avoids the question of whether he would pardon himself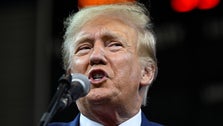 Former President Donald Trump danced around the question of whether he would pardon himself if re-elected next year, a clip from an upcoming NBC News interview showed.
In the clip of his meeting with "Meet the Press" host Kristen Welker filmed Thursday, Trump hesitated to give her a clear answer when she asked him about the possibility. When she first asked, he replied that he could have preemptively pardoned himself before leaving office in 2021, but chose not to – even though such a power was untested and questioned by legal scholars.
"Don't ask me what I have would do," Trump said. "I could have – on the last day I could have done a pardon. That would have saved me all these lawyers and all these false accusations."
In recent months, Trump has been indicted on four counts and faces 91 felony counts related to his efforts to overturn the 2020 election results, hush-money payments to a porn star and mishandling of top-secret documents.
"I was given the option. I could have pardoned myself," Trump continued. "You know what I said? I have no interest in thinking about it at all. I never wanted to think about it. And I could have done it."
In his response, Trump claimed six times that he could have pardoned himself before leaving office.
When Welker asked him again, he emphasized whether he would do it, "even if [he] were re-elected," Trump indicated that he wouldn't do so – because he didn't have to.
"I think it's very unlikely," Trump said in the final moments of the clip. "What did i do wrong? I did nothing wrong. You mean they want to put me in jail for contesting an election?"
The full interview is scheduled to air on Sunday.