News
Drake confronts male fan over tug-of-war with woman at concert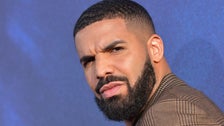 Drake sent a stern message to a male concert-goer after he started arguing with a female fan over a towel the rapper threw into the crowd.
In viral footage that was shared on social media, The "Knife Talk" rapper goes backstage after performing at the Kia Forum in Inglewood, California on Saturday.
The Grammy winner then wipes his face with a towel before tossing it into the crowd.
A woman caught the catapulted towel, but a man next to her began a tug-of-war with her to grab the towel.
In a separate video, the visibly upset Canadian rapper yells at the male fan and scolds him for arguing with the woman over the towel.
"I'll send someone there," Drake tells him before being led away by his security team.
Fans on X, formerly known as Twitter, reacted to the OVO Sound founder rebuking the man for his inappropriate behavior.
Last month, Drake went viral again hilarious reaction to a woman who threw her bra 36G onstage during a New York show for his It's All a Blur Tour with 21 Savage.
'36G?' said Drake, officially known as Aubrey Graham, after picking up and inspecting the bra. "Find this woman immediately."
This moment started an ongoing trend with women throwing their bras on stage for the musician.
His five-year-old son Adonis Graham attended the same concert on Saturday where the towel fight took place. Drake had told his female fans at the concert to keep their bras on out of respect for his son.
"I can't talk about boobs in LA tonight because it's my son's first time ever on the show," the songwriter said in an interview Video from the show that was split up tick tock.
"Tonight we stay with PG," he added. "Keep all your bras on."
Drake shares Adonis with French artist Sophie Brussaux.