News
Drake flaunts a huge collection of bras thrown at him on tour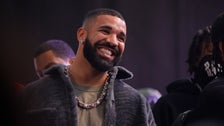 Drake is just like Thanos, but instead of rings he collects bras.
The Grammy-winning rapper, who toured the US with 21 Savage on his It's All a Blur Tour, went viral over the summer to kid that fans don't throw bras at him enough on stage.
Now he shows how seriously his fans took his request.
On Wednesday, the "Rich Flex" rapper – whose official name is Aubrey Drake Graham – showed off his massive collection of bras of different colors and sizes that he collected from concert-goers during his tour.
In the Instagram postDrake smiles like a kid in a candy store as he stretches his arms wide as he stands in front of a sea of ​​bras behind him. In the snap, he's wearing a sweatshirt that read, "If assholes could fly this place would be an airport."
The Degrassi graduate captioned the post, "Remember when we both in unison forgot who the hell I was… that wavelength was stupid for sure."
To emphasize how many bras he was gifted with, he also shared shots of them Instagram story by his team clearing out a huge trash can filled with it.
Fans on X, formerly known as Twitter, reacted to the star's lavish collection.
Other X users were unnerved that the star was holding onto the oodles of underwear.
Drake first sparked the trend of fans throwing bras at him in July after expressing he wasn't too happy about receiving a paltry amount of bras.
"Before I move on to the next song, I just want to say that this is the first phase I've gone bra-free and I'm deeply disappointed," the "God's Plan" crooner said in a comment Video captured by fans at the show. "But don't start throwing around with shoes, phones and stuff like that."
He added, "But if you have a bra just let me know I still have it because I feel like I might put on a bad show or something." I didn't see any bras tonight. "