News
Ecuadorian presidential candidate Villavicencio killed at campaign rally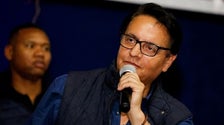 QUITO (Reuters) – Ecuadorian presidential candidate Fernando Villavicencio was killed on Wednesday, President Guillermo Lasso said, vowing the killing would not go unpunished.
Local media had previously reported that Villavicencio, a former MP polled with 7.5% voting intention, was shot at a campaign rally in Quito.
"For his memory and his fight, I assure you that this crime will not go unpunished," Lasso said on X, the social media platform formerly known as Twitter. "Organized crime is very advanced, but the full burden of the law will fall on them."
Lasso said he will invite senior security officials to an urgent meeting.
Videos on social media purporting to be from the campaign rally showed people ducking for cover and screaming as gunshots rang out.
WARNING: The video contains graphic depictions of violence
(Reporting by Alexandra Valencia, Text by Julia Symmes Cobb)