News
Elon Musk threatens to sue the Anti-Defamation League over X's lost ad revenue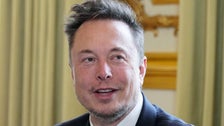 Elon Musk said Monday that X, formerly known as Twitter, had "no choice" but to file a defamation lawsuit against the Anti-Defamation League as ad revenue continues to plummet.
Musk said the tech giant's ad revenue fell 60% in the US after it acquired the company for $44 billion last year. His tenure was difficult, to say the least: that included an amnesty Blocked accounts program This prompted groups – including the ADL – to warn that the changes would lead to an increase in harassment and hate speech.
But Musk said he blames the ADL – which works to combat hatred against Jewish people – for the drop in advertising dollars and said the group falsely accused X and Musk of being anti-Semitic.
"Based on what we've heard from advertisers, ADL appears to be responsible for the majority of our revenue loss," Musk wrote Monday. "Giving them the highest degree of credit, I don't see a scenario where they would be responsible for less than 10% of the value destruction, which is about $4 billion."
The ADL said it did not comment on legal threats, but added that the attacks were tantamount to those aimed at curtailing civil liberties.
"ADL is neither surprised nor deterred that anti-Semites, white supremacists, conspiracy theorists and other trolls have launched a coordinated attack on our organization," said a spokesman for the group. "This is nothing new."
The ADL noted that it recently attended the 60th anniversary of the March on Washington and met with X leaders, which "clearly angers these hateful groups."
"Such insidious efforts do not deter us," the spokesman continued. "Instead, they drive us to work tirelessly to combat hate in all its forms and to ensure the safety of Jewish communities and other marginalized groups."
X filed a lawsuit in August against the Center for Countering Digital Hate on the grounds that it had made "false" claims about a rise in hate speech on the platform.