News
Elon Musk's boast about Twitter's "all-time record" falls flat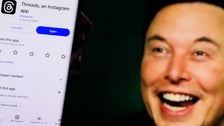 Elon Musk claimed Twitter could hit an "all-time record" this week, but data from internet traffic experts suggests otherwise as Mark Zuckerberg's new platform gains momentum.
"The cumulative phone screen time in seconds per day as reported by iOS and Android is the hardest to trick. I think we could hit an all-time record this week," Musk wrote Monday in response to a post from Twitter CEO Linda Yaccarino, which said the platform had its "biggest day of use since February" last week.
But these claims don't seem to pass the smell test.
Matthew Prince, CEO and co-founder of Cloudfare, a web performance and security company, shared a chart shows a downward trend in the popularity of the social media platform and writes: "Twitter traffic is falling."
Similarweb, a digital data company, said: "Traffic on the Twitter website fell by 5% compared to same days last week and 11% compared to same days last year," suggesting this may also be related to the reported rapid rise of Meta's new platform, Threads.
Zuckerberg on Monday said threads reached over 100 million registrations last weekend.
"That's mostly organic demand and we haven't even turned on many promotions yet," he added. "I can't believe it's only been 5 days!"
Threads users will reportedly soon be able to see sponsored content in the app as Instagram's branded content tools are made available to marketers on the new platform. according to Axios.
Threads started last week seemed to benefit from Twitter users' dissatisfaction with Musk's messy policies, most recently including "temporary limits" on the number of posts users could see. "Verified" accounts on the platform are allowed to read 8,000 posts per day, while unverified users are limited to 800 posts per day and newly registered unverified accounts can access 400 posts per day.
These restrictions came on top of other technical glitches the platform has had since the beginning of the year, including the site crashing at least four times in February and Musk's decision to remove the old blue ticks for most users and replace them with the Twitter blue subscription product.
Threads also benefits from Instagram's large user base, as Threads accounts are powered by the photo and video sharing app.
Musk already seems uncomfortable with Threads' rapid rise. X Corp., Twitter's parent company, has threatened to sue Meta over Threads, alleging that the tech giant "systematically, willfully, and unlawfully appropriated Twitter's trade secrets and other intellectual property" by poaching its employees.