England were thrashed by South Africa within three days of the collapse of the first Test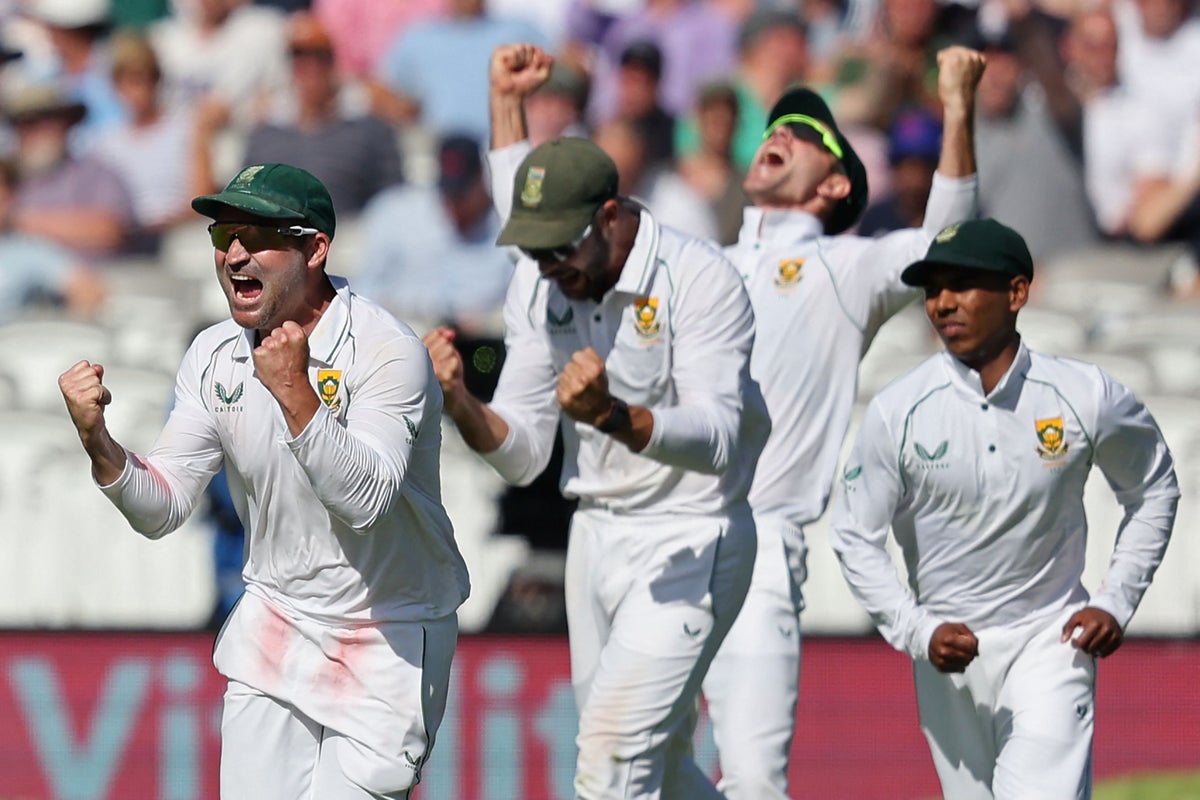 If England's much-vaunted 'Bazball' approach to Test cricket has always had a slight 'live by the sword, die by the sword' feel, then it could be said that South Africa came with a full arsenal of epees, sabers and katanas to match it to cut to shreds.
It would be unnecessary to throw the baby with the bath water but England's performance during that first test at Lord's, particularly on what was billed as the third day but turned out to be the final day, ruthlessly exposed its shortcomings.
And it raised many questions about how sustainable such an ambitious, borderline ruthless approach that could work in white-ball cricket is with the red ball in the long run.
This South African team is hardly a conservative throwback to the boring, hard-edged Test cricket teams of yesteryear, but they seemed positively old-school compared to their hosts. And far, far more effective.
In England's disastrous second inning on Friday, Anrich Nortje bowled at up to 95mph and a sparkling spell saw him heart rip from the middle order. Jonny Bairstow, Alex Lees and Ben Foakes all fell in quick succession in almost copycat fashion – and edged behind wicketkeeper Kyle Verreynne.
Foakes should be particularly dismayed at his dismissal – given how inexplicable the attempt was with nothing blowing at a ball far outside the stump – but all three were only possible because Nortje bowled the 'traditional' testing line and length just outside the stump and ball moved the ball. The rewards were self-evident.
In contrast, England's 'Bazball' approach to knocking out Nortje and his teammates early in Day 3 consisted of a short bowling on increasingly bizarre fields that featured an acre of space before the offside pitch. Bouncers are an incredibly effective weapon, especially against low-order Brawlers, but mostly when used sparingly or in bursts, rather than as the sole supply drop.
South Africa duly added 37 runs to their overnight total, with Marco Jansen and Lungi Ngidi only finally removed when England finally started bowling more traditionally – both in danger of slipping.
England's batting efforts were so poor that those extra runs were largely rendered meaningless, but in closer test matches on the road such decisions could prove crucial.
If the hosts' batting struggles in the first innings were somewhat understandable given the bowler-friendly conditions they faced after losing the throw and being made to bat, the collapse of the second inning revealed the underlying issues that caused a number of Back-from had – The dead men's victories over New Zealand and India this summer, which had relied on moments of individual brilliance from Bairstow, Joe Root and Ollie Pope, had temporarily faded.
While Brendon McCullum and Ben Stokes' unwavering belief in and loyalty to these 11 players has helped unlock additional potential in players like Bairstow and Jack Leach, surely it's finally time to admit that Zak Crawley has run out of ropes.
The opener is clearly talented and glorious to see in full swing, but he's averaged 15.6 in his last 14 Test innings with a high 46 score and found no form when he returned to Kent this summer and here perished 13 thanks to a clumsy, willful sweep across the line that saw him caught in the plumb. By this point he had already found a lead at least four times and desperately needs to find form, likely away from the limelight.
At this point there is little Harry Brook can do to make his claim louder and he even hit 140 for England Lions against South Africa earlier this month. It's time to give him a chance.
Pope was similarly caught by Keshav Maharaj and Root didn't have to play outside the line on a Ngidi delivery he was in danger of slipping, despite the ex-skipper having so much credit in the bank that any sort of criticism for the odd ones Error feels grumpy.
At 81-3, it felt like England still had a chance for a notable comeback, but Nortje's anti-Bazball approach with those three wickets for five runs erased that. Though Stuart Broad entertained the crowd with an explosive 35-run cameo, the Proteas could afford to be patient, knowing they had plenty of runs to play and be lucky if every big swing either landed safely or on the limit passed, could not last forever.
He was duly nullified by a slower ball from Kagiso Rabada, which he spooned up the middle, but the 36-year-old bowler wasn't to blame for his side's batting problems. The end soon came as Matty Potts, Stokes and James Anderson were sacked in quick succession and a one-inning, 12-run loss was confirmed.
England had to contend with a defeat that came before tea on the third day from a good place in a Test that saw most of the first day lost to rain. A damning indictment of what happened, although skipper Stokes was almost admirably stubborn in his post-game dogmatism.
"I look at the captains ahead of me, the captains after me, they always get criticized at certain times for how they want to go out and play," Stokes stressed when asked if England would consider changing their style of play .
"It's probably an essential part of life. We know that when we play our skills to the fullest, we can produce incredible performances, as everyone has seen in the four games before this one.
"It's not a wake-up call or anything, but unfortunately we couldn't play the way we wanted this week and South Africa were better than us."
Maybe it should be a wake up call. Bazball is clearly an improvement over what came before it, but the shortcomings are stark.
Ahead of that test, South African skipper Dean Elgar warned that England could be left "balls in their faces" if they continued with the style and that proved prescient, although perhaps not even he believed it would happen so quickly.
There is undoubtedly a version of this approach to team management and Test cricket that can be successful. It is now up to England to adapt and find them, lest many more 'die by their sword' in the near future.
https://www.independent.co.uk/sport/cricket/england-south-africa-first-test-result-score-b2148655.html England were thrashed by South Africa within three days of the collapse of the first Test