News
Ex-DOJ official makes ominous prediction for Trump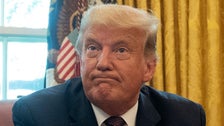 Former Acting Attorney General Neal Katyal believes Donald Trump is in for another bad week.
MSNBC's Jen Psaki suggested that people are once again on "custodial vigil" after Special Counsel Jack Smith sent the former president a pointed letter last week investigating the ex-POTUS' attempts to reverse his 2020 election defeat.
"I think it's likely that something will happen this week," Katyal said, speaking of another impending indictment against Trump.
The target letter is no guarantee of indictment, Katyal admitted.
But "you don't send the target letter to a former president unless you're pretty sure you have what it takes," he added.
Watch the interview here:
Trump is on trial next year over the Stormy Daniels hush money case. He has also been charged with violations of the Espionage Act for allegedly mishandling confidential documents, and an investigation remains open in Georgia for attempting to overturn the 2020 finding.