News
Family held at gunpoint after typo identified their car as stolen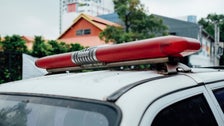 A police department in a north Dallas suburb stopped a visiting black family from Little Rock, Arkansas, and incorrectly assumed they were in a stolen car, according to Harrowing body camera footage released Saturday.
On July 23, a Frisco police officer identified as V. McQueen in body camera footage mistakenly entered the license plate number of the family's black Dodge Charger, which police began chasing as it exited a hotel parking lot.
The car caught their attention, Frisco police said, because it had foreign license plates and because the chargers were heavily stolen vehicles. according to WFAA-TV in Dallas. This led to what police called a "high-risk traffic stop" on the Dallas North Tollway.
Although no one was physically injured, the bodycam footage captured emotional moments as the family faced a life-threatening, "traumatizing" confrontation.
Police, guns drawn, first ordered the driver, a 28-year-old woman posing as a nurse, to get out of the vehicle.
"What have I done?" ' she asked Officer McQueen, crying. "I've never had a day in trouble in my life. It scares me terribly."
There were three other people in the car: her husband, her son and her nephew. Their names have not been released publicly. The two boys were 12 and 13 years old, NBC News reported.
The family also had a registered, concealed handgun locked in the glove compartment, the woman and her husband told police.
After ordering the driver to get out of the car, the police then ordered her son to get out next. Officers pointed their guns at both the car and the woman and one of the children as they were forced to get out of the car and walk towards the police, face backwards and with their hands raised.
Shortly after, they handcuffed the son and put him in one of the police vehicles while the woman spoke to McQueen.
"Is he handcuffed? Please don't let them harm my baby. "It's very traumatic," pleaded the driver.
The man could be heard from the car pleading with the police.
"Listen bro, we're just here for a basketball tournament," he said. "Don't do this to my son, brother."
He described himself as a basketball coach for a team in which his nephew and son played.
During the stop, McQueen realized that she had made a mistake by accidentally listing the car's license plate as one of Arizona (AZ) rather than Arkansas (AR). At that point, officers stopped pointing their guns at the family. McQueen then admitted the mistake to the family while the other police officers gathered around him. McQueen and some of the officers can be heard apologizing.
"This is all my fault. I apologize for this one. I know it was very traumatic for you, your nephew and your son. And like I said, it's my fault. There are consequences," McQueen told the woman.
A police officer even tries to comfort one of the boys by putting his arm around him after the incident.
"No one ever gets hurt if they cooperate," another officer said in the video.
The husband then got emotional.
"But everything could have gone wrong for us," he is heard to say. "If I had picked up my phone, we could all have been killed."
In a July 28th press releaseThe police department acknowledged the error and said they would investigate the incident.
"We made a mistake," Frisco Police Chief David Shilson said in the press release. "Our department will not hide from its mistakes. Instead, we will learn from them."
"I sympathize with them and fully understand why they are upset. I apologized on behalf of our department and assured them that we will hold ourselves accountable and ensure transparency throughout the process. "This incident does not reflect the high standard of service our officers provide to our residents, businesses and visitors on a daily basis," Shilson said.
Frisco Police declined HuffPost's request for comment.