News
Fauci reveals the ugly reality behind DeSantis' dangerous attacks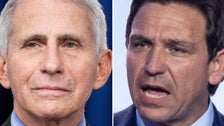 Dr. Anthony Fauci responded with dignity Thursday to attacks from the right that left him needing security protection for his own safety.
MSNBC's Mehdi Hasan played Fauci footage of Florida Gov. Ron DeSantis (R) telling supporters last year that "someone's got to grab that little elf and throw it over the Potomac."
Hasan asked Fauci whether he viewed DeSantis' comment as a threat, suggesting that the 2024 Republican presidential nominee had incited violence.
Fauci admitted he became a symbol of hate for the far-right after he publicly disagreed with then-President Donald Trump's handling of the coronavirus pandemic.
"DeSantis doesn't want to hurt me personally, but he provokes people who are bad and really want to hurt people, that's the problem," Fauci said.