News
"'Five Nights At Freddy's' Gets A Stunning First Look Trailer"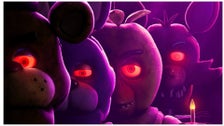 Eight years after the movie was first announcedFinally, a trailer for the movie "Five Nights at Freddy's" has been released – and it looks damn good.
On Tuesday evening, Universal released its first teaser for the horror film based on the supernatural survival video game of the same name. From the looks of it, the adaptation seems to stick pretty closely to the source material.
The film follows an unfortunate security guard (Josh Hutcherson) who encounters a series of paranormal horrors at the pizzeria where he worked the graveyard shift. As the night progresses, he realizes that something sinister wants a piece of him.
In the trailer, which racked up more than 8.8 million views in less than 24 hours, Hutcherson is seen anxiously walking through the haunted Freddy Fazbear's Pizza restaurant, shouting "hello" as he explores his eerie surroundings.
A menacingly cheerful narrator then says, "We're going to have so much fun together," as Freddy the bear appears in the dark with cool red eyes.
The hugely successful game was discontinued in 2014 and has since sparked a wave of games spinoff games And novels.
In the popular horror game, players take on the role of an anonymous night watchman struggling to survive five nights at the pizza parlor while being pursued by several murderous animatronics – including Nightmare Freddy, Scrap Baby, Molten Freddy, and Lefty – who kill him like slicing a slice of pizza.
The new film is directed by Emma Tammi ("The Wind") and also stars Elizabeth Lail, Kat Conner Sterling, Piper Rubio, Mary Stuart Masterson and Matthew Lillard.
Five Nights at Freddy's hits theaters and Peacock on October 27.