News
Flavor Flav shows off his Swiftie side on Taylor Swift's Eras tour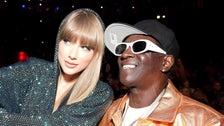 "THANKS to all my new friends dear my fellow Swifties #TaylorSwift #ErasTour #FriendsForever," Flav wrote in another tweet.
"Make the friendship bracelets, take the moment and taste it," Flav wrote, alluding to Swift's "You're on your own, boy."
Flav has shown his love for Swift's music over the past few months, posing for a photo with Swift at the iHeartRadio Music Awards in March.
"I love Taylor Swift man I always have, you know what I'm saying. word up", Flav told Billboard on the event's red carpet as he showed off his "I'll be back stronger than a '90s trend" shirt, a nod to Swift's song "pasture."
He added that Swift keeps her "clock at 12," as does the watch on his necklace, a nod to the singer's album Midnights.