Floyd Mayweather stops MMA star Mikuru Asakura in exhibition fight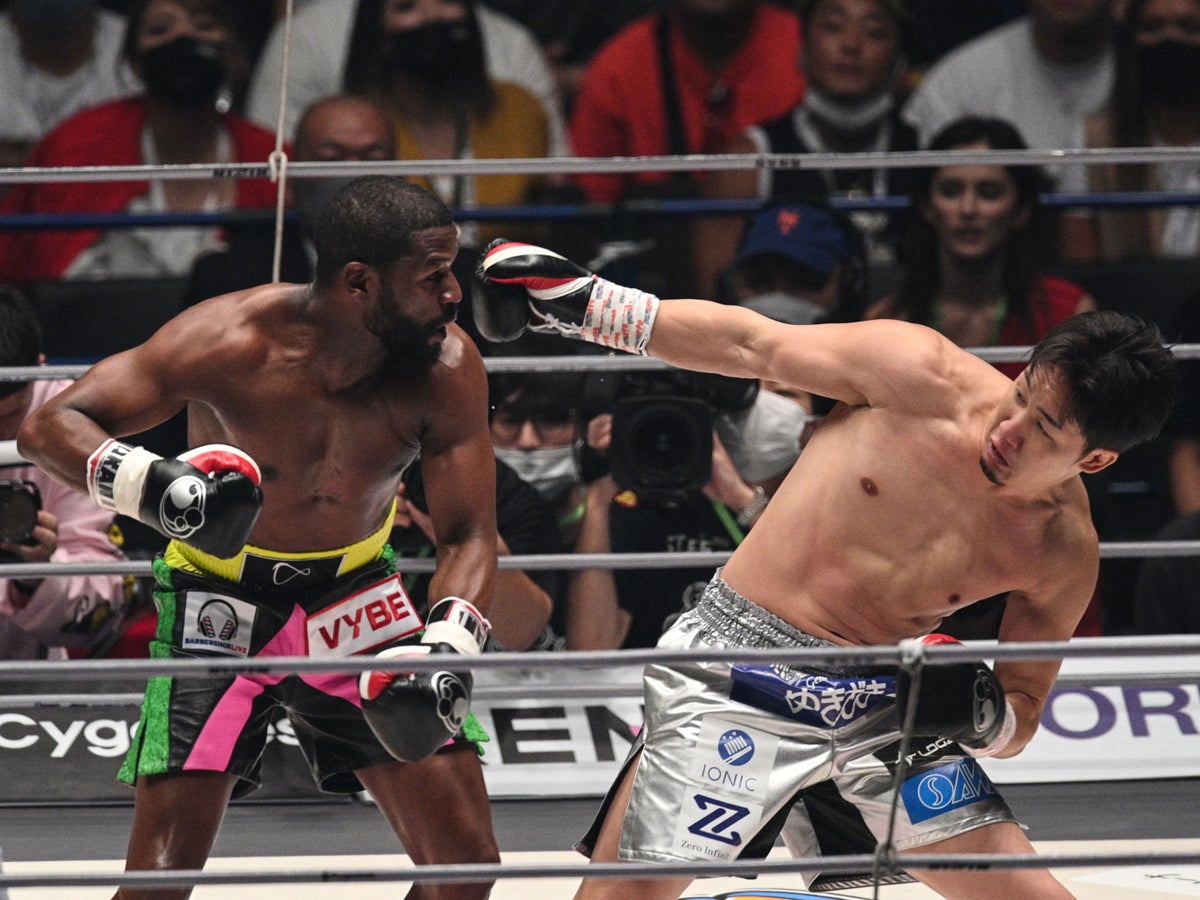 Floyd Mayweather stopped mixed martial artist Mikuru Asakura in the second round of the pair's show boxing match in Japan on Saturday (September 24).
Mayweather, 45, has competed in a string of exhibition bouts since retiring undefeated as a professional boxer in 2017, and his clash with Asakura, 30, proved to be one of the more entertaining.
The fight at Saitama Super Arena in Asakura's home country was scheduled for three three-minute rounds, and a fun opening frame gave way to an even more competitive second round where Mayweather dropped Asakura with the last punch before the bell.
It was a right cross that caught Asakura in the ear and stretched the Japanese fighter, and the MMA star was unable to beat referee Kenny Bayless' count.
Before the stoppage, Mayweather – a former multi-weight boxing champion – made a point of staying light-footed, with southpaw Asakura feinting to get big reactions from the American.
Mayweather displayed his famous defense, parrying most of Asakura's jabs and blocking the 30-year-old's heavier punches before landing some of his own to the head and body before the end of the first round.
In the second round, the intensity increased after Mayweather landed a clean right cross on the head of Asakura, whose professional MMA record stands at 16-3 (1 no contest). The shot caused Asakura to fire back with more intent and attempt a series of hard hooks in the clinch.
After Bayless separated the fighters, Mayweather applied pressure by assisting Asakura and landing on his head twice in quick succession. Asakura retaliated with his best spell of the fight, appearing to stun Mayweather somewhat before the 45-year-old used an effective head movement to break free of the ropes.
Both fighters then met in the final seconds of round two with a series of straight punches, with Mayweather dropping Asakura to the bell and the mixed martial artist unable to beat Bayless' count.
"I want to thank the whole country of Japan, an amazing country," Mayweather said after the fight. "A round of applause for this incredible competitor here. Another incredible experience. I'm just glad to be here, thanks again.
"I am delighted that we were able to inspire the fans tonight. Thanks for the invitation, I'll be back."
In his previous exhibition bouts, Mayweather stopped kickboxing star Tenshin Nasukawa in the first round in 2018 before going his distance with YouTuber Logan Paul last summer and also hearing the final bell against undefeated boxer Don Moore this May.
Next, Mayweather will face off against YouTuber Deji in Dubai in November.
https://www.independent.co.uk/sport/boxing/mayweather-asakura-fight-result-reaction-b2174728.html Floyd Mayweather stops MMA star Mikuru Asakura in exhibition fight