Football's 'stubbornness' over concussion puts players' health at risk, charity warns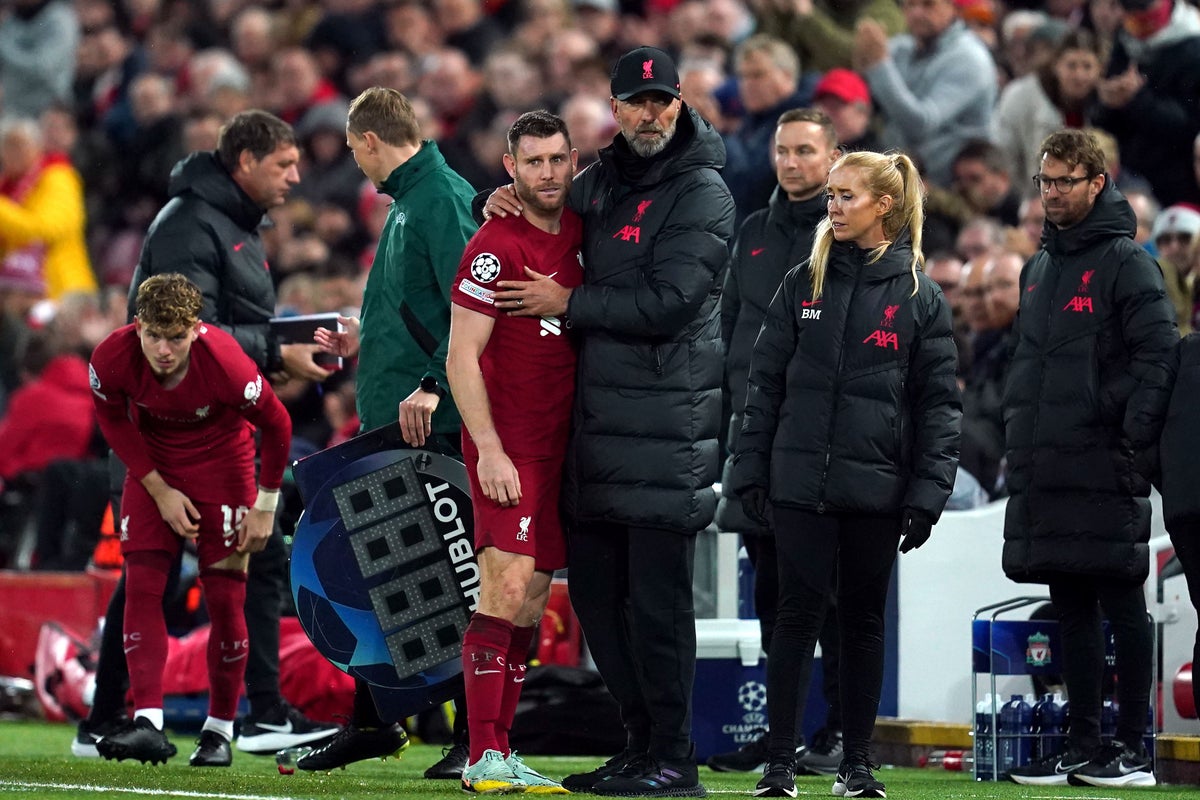 Football's "stubbornness" in dealing with head injuries is putting players' health at risk, a brain injury charity has said.
Headway highlighted the inconsistencies in the treatment of such injuries, citing the cases of Tottenham's Son Heung-min and Liverpool's James Milner in Tuesday night's Champions League games.
While the South Korean striker was substituted after a clash in Spurs' game against Marseille, Milner continued playing against Napoli after suffering a head injury before being substituted in the 48th minute.
It followed an incident in the Premier League last weekend that saw Aston Villa goalkeeper Emiliano Martinez initially allowed to continue playing despite sustaining a head injury in his side's game against Newcastle.
He eventually succumbed to the injury and was replaced with a concussion replacement.
Luke Griggs, Executive Vice President of Headway, said: "Assessing players for possible concussion remains a major challenge for medical professionals.
"They are helped by football's continued and unwarranted reluctance to introduce temporary concussion replacement devices that would allow extensive assessments in the quiet spaces of a dressing room, away from the intense atmosphere of the pitch.
"We have repeatedly warned football about the risk it is taking with players' short and long-term health.
"Hold out when in doubt" is reportedly at the heart of concussion protocols in all sports. And yet too often we see teams fail to take this approach.
"Instead, the approach seems to be 'let's see how they get on for the next 15 minutes' during which they risk exacerbating the effects of the original injury.
"Football's stubbornness in accepting the clear evidence that has surfaced in recent years can no longer be accepted."
The Professional Footballers' Association issued a statement on Monday calling for trials of temporary concussion substitutes and for UEFA to introduce permanent concussion substitutes in its competitions.
dr Adam White, head of the PFA's dedicated brain health division, stated: "Put simply, the current rules of the game put the health and safety of players at risk."
Under Uefa's head injury procedure, a player who has sustained an injury which requires a determination of possible concussion may only continue playing if the team doctor specifically confirms to the referee that the player is fit to do so.
The procedure provides for a referee to stop play in the event of a suspected concussion to allow the player to be examined by the team doctor.
The assessment should not last more than three minutes and if the assessment is not complete and/or there is a suspicion of concussion the player should be substituted.
Uefa also drew up a concussion charter which clubs and national teams in men's and women's competitions were encouraged to sign.
Football's governing body of Europe tested substitutes for permanent concussions at the men's U21 championship in Hungary and Slovenia last year.
https://www.independent.co.uk/sport/football/james-milner-napoli-liverpool-professional-footballers-association-headway-b2216080.html Football's 'stubbornness' over concussion puts players' health at risk, charity warns