News
Former White House press secretary says she is 'nervous' after Trump's 'terrifying' post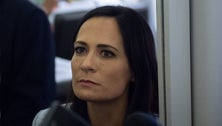 Stephanie Grisham, a White House press secretary under former President Donald Trump, said her ex-boss's "terrifying" Truth Social post made her "nervous," saying it prompted other Trump critics on Friday to feel the same way should.
Grisham, who also served as former first lady Melania Trump's chief of staff, chimed in after the former president wrote, "IF YOU FOLLOW ME, I'LL FOLLOW YOU!" on his social media platform.
"Well, I find it creepy. Legally, it doesn't seem very smart. But why isn't that intimidation? And you know what other people are going to take a message from that?" Grisham told CNN's Brianna Keilar on Friday.
"As we've seen and heard, people genuinely believe Donald Trump sent them to the Capitol, and people really felt like they listened hours later when he said to stop."
Trump's contribution led prosecutors late Friday to seek a protective order from a federal judge overseeing the former president's 2020 election case. The order would limit what the former president and his legal team could tell the public about the case, the Associated Press noted.
The court filing from Special Counsel Jack Smith's office states that the release of public posts containing grand jury details and transcripts could result in a "detrimental deterrent to witnesses or prejudice the fair administration of justice in this case."
Grisham went on to note that the post made her nervous before also commenting on those who had spoken out against Trump.
"Does anyone have to get hurt before people take this kind of online intimidation seriously?" Grisham said.
"People, and I know he's pointing this out to prosecutors, but as someone who gets death threats every other day, it makes me nervous. It should make anyone who has ever spoken out against him nervous. And that's a lot of people."
A Trump spokesman, in a statement obtained by Reuterswrote that his post "is the definition of political speech" and was "a reaction to the Rino, China-loving dishonest special interest groups and super PACs."