News
Fox News guest and Satanist has a blast at trolling outlet over lawsuit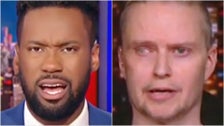 The devil made him do it. (Check out the video below.)
The co-founder of The Satanic Temple on Tuesday ripped Fox News host Lawrence Jones over the broadcaster's massive legal battle with Dominion Voting Systems.
Lucien Greaves appeared on the right channel after a federal judge ruled After School Satan Club sponsored by the Greaves organization continued on the public school campus despite objections from a Pennsylvania school district.
Jones asked Greaves about the clubs and the guest mostly refused to answer, he said, because the matter is still before the court.
"What would you like to do in schools across America?" Jones asked.
"Well, I'm not going to talk about what we do at school," Greaves replied. "If we're having a discussion about litigation that nobody wants to have, I have 787.5 million questions for you."
That, of course, was the dollar amount Fox News agreed to pay Dominion for repeatedly and falsely claiming that its machines had been rigged in the 2020 election against Donald Trump.
Jones, who filled Tucker Carlson's time slot while the network decides on a new host, pushed for the Temple's philosophy, and Greaves said he advocates freedom from religious superstition. (The Satanic Temple says it does on its website "not theistic" and "Non-Supernaturalist.")
When asked by Jones who he would support for president, Greaves replied, "Well, as a spokesman for a religious organization, I certainly wouldn't support a politician… I think the churches should start shutting up when it comes to direct politics in endorsement of certain candidates."
Greaves poked fun at the right-wing broadcaster and its fallen primetime star before the interview.
"My one-stop gleeful I Outlasted Tucker Carlson Victory Tour will be live tonight on Fox News during Tucker's old slot at about 8:20 p.m. with Lawrence Jones," he said wrote on Twitter.