Gareth Southgate is positive about England despite the boos after the defeat by Italy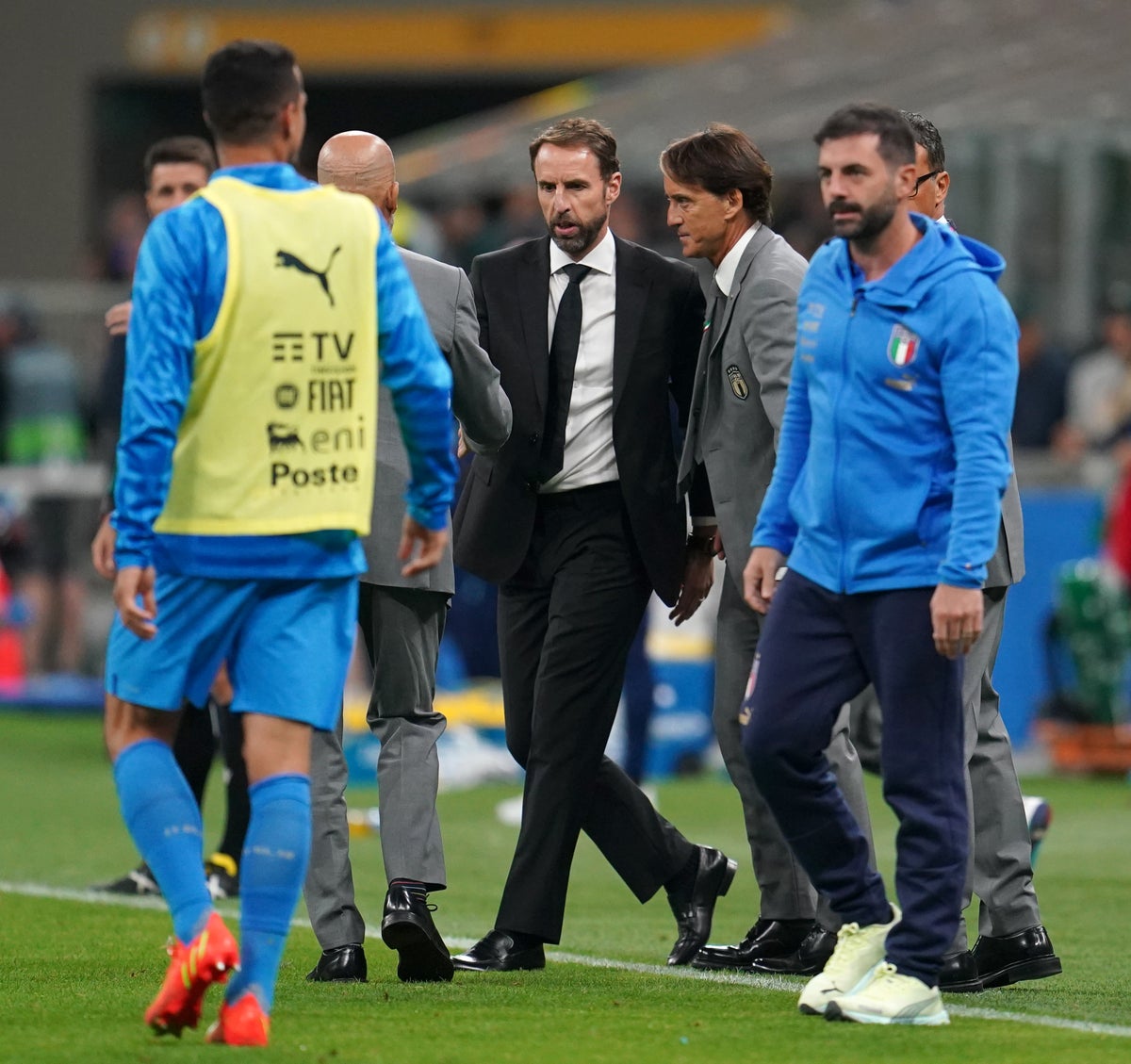 Gareth Southgate understands why traveling fans have booed him full-time but was optimistic about England's performance after a defeat by Italy that saw them suffer relegation to the Nations League.
As one of the favorites to win the World Cup in Qatar, things went wrong for the Euro 2020 runners-up at exactly the wrong time.
Nations League defeats by Hungary ended a miserable four-game defeat in June, with the 1-0 defeat in Budapest followed by draws against Germany and behind closed doors against Italy.
The 4-0 Molineux draw against the Magyars put them at a crossroads en route to Milan, where Giacomo Raspadori secured the failed Azzurri a 1-0 win that condemned the Three Lions to relegation from the top division.
It was an embarrassing bump just 59 days before their World Cup opener against Iran and resulted in some of the 4,415 fans who had traveled to Southgate booing full-time.
"Listen, it's really hard to say why we're not scoring because I think we're going in the right areas," said the England coach.
"We had the moments that we would have had in the past. We just didn't deliver the last piece of quality tonight.
"I understand the reaction at the end because those are the results we got in this competition and yes it's an understandable emotional reaction."
England's five-game winless streak is their longest since 2014 and means they were relegated in Monday's Nations League home game against Germany.
"Well, I find it hard to be too critical of the performance," Southgate said. "We had more possession, more shots, more shots on goal. I think we played big parts very well.
"We didn't handle the crucial moment defensively and had moments in the last third where we had chances to be more crucial and our quality wasn't quite right.
"It's a period where obviously results are ultimately what everyone reacts to, but I thought there were a lot of positive signs for us as a team tonight.
"I think there were a lot of good individual performances. I personally found the performance a step in the right direction.
"But I fully understand that based on the outcome that will not be the reaction from outside."
In truth, it was England's tepid reaction to June and an alarming penultimate game before the World Cup, as the side looked toothless in attack and weak in defence.
"We've said we're not in an ideal situation in terms of the number of players who play at a high level on a regular basis," Southgate said. "But we have to keep working on it and make sure we stay on course.
"Of course there will be a lot of noise, but that really came from the summer and I totally understand that.
"The players in the dressing room know they could have won this game and if they take their chances and defend the goal better then we win. They are fine edges.
"We're playing against some of football's biggest nations and the fine margins are crucial."
Italy will not be at the World Cup this winter and coach Roberto Mancini was delighted with his side's victory on Friday night.
"We beat England, who are one of the strongest national teams in the world," he said. "The game system doesn't matter.
"What matters is the personality that a team has, the will to attack and stay high – and in that sense we have been very good. The win was deserved."
https://www.independent.co.uk/sport/football/england-italy-gareth-southgate-milan-iran-b2174286.html Gareth Southgate is positive about England despite the boos after the defeat by Italy