News
Gavin Newsom calms speculation about the 2024 presidential election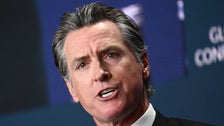 California Gov. Gavin Newsom said it's time to think about running for president in 2024. (You can read his remarks in the clip below)
The Democratic governor referred to Vice President Kamala Harris in an interview with "Meet the Press" host Chuck Todd when asked why Americans shouldn't consider him a "likely nominee" if President Joe Biden later decides against running for office a second term of office decides.
"Well, I think the vice president is obviously the one in line, and the filing deadlines are quickly approaching, and I think we need to move away from the idea that he's not going to run," Newsom said in a clip , the " Today Show.
Newsom's comments hit home according to a newly released CNN poll found that 76% of Americans said they were "seriously concerned" that Biden's age of 80 could have a negative impact on his ability to serve a full second term as president.
Biden joked about concerns about his age earlier this week, telling an audience in Philadelphia, "The only thing that comes with age is a little bit of wisdom."
Newsom told Todd that Biden would run in 2024, adding that he was "looking forward to being re-elected."
"I think there has been so much chatter and talk in this regard over the last few months. But we are preparing for the campaign. We're looking forward to it," he said.
Todd pressed the governor of California, asking him what he would say to donors who are "indulging" on the issue.
"Time to move on. Let's go," Newsom said.