News
Gavin Newsom refutes "total nonsense" Republican claim: "This is a false flag"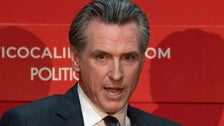 California Gov. Gavin Newsom (D) called Republican claims that Democrats support and even promote pre- and post-natal abortion rights "total nonsense."
"It's made up, it's a political thing. At the end of the cycle, people don't seek abortion," Newsom told CNN's Dana Bash in a lengthy interview that aired Monday.
However, Newsom said Republicans now have to go "right there" "because they've gone too far on the other side."
"This is a false flag," he told Bash. "This is where they need to go to get out of the mess they made because they don't believe in basic choices and freedoms for women. This whole matter is a political matter. And with all due respect, I'm not surprised Donald Trump would say that."
"I call this whole debate nonsense, it is a pure political disappointment," he added.