News
George Conway recognizes a moment that could haunt Trump in court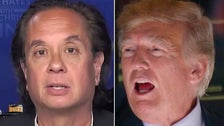 Conservative attorney George Conway said a line from Donald Trump's interview with Hugh Hewitt on Wednesday could be used against him in court.
Hewitt asked Trump if he had told anyone to take away the boxes of classified documents at the center of one of the four major legal cases the former president is facing.
"I'm not talking about anything. You know why? Because I can do whatever I want," Trump insisted. "I'm governed by the Presidential Records Act…I'm allowed to do anything I've done."
When Hewitt questioned again, Trump insisted he was "completely covered by the law."
Few people agree with Trump on this interpretation of the law, and many legal observers say his insistence that he be allowed to do what he did is more an admission than a defense.
And on Wednesday, Conway said what Trump said to Hewitt could be used against him — not even at the trial, but during the sentencing that followed:
Former federal prosecutor Renato Mariotti had a similar thought, writing that Special Counsel Jack Smith could use the same exchange during the trial:
Trump is charged with a total of 91 felonies from four separate cases: two federal, one in Georgia and one in New York.
During the same interview on Wednesday, he claimed he was ready to take a stand and testify, stressing that he had "no interest" in reaching a settlement with prosecutors.
There's no sign prosecutors are ready to offer him one.