News
GOP governor promises gift cards in exchange for $1 donations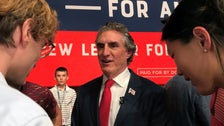 North Dakota Gov. Doug Burgum (R) announced Monday that he will send donors a $20 gift card if they donate $1 to his presidential campaign.
"People are suffering from Biden inflation and giving out Biden Economic Relief cards is a way to help 50,000 people until we are in office and fix this crazy economy for everyone!" Burgum tweeted Monday. "Get your copy here," the tweet continued, with a link to his campaign donation page.
The linked WinRed site President Joe Biden, along with the Democratic Party, once again accused harming American families and asked donors to provide their personal and credit card information.
In a separate tweetBurgum reiterated the gift card offering, "When it comes to bringing economic relief to the American people, I'm not kidding!"
The wealthy Republican governor, a former software company CEO, launched his presidential campaign last month but enjoys little publicity compared to many of his Republican opponents, who include former President Donald Trump and Florida Gov. Ron DeSantis.
The governor of North Dakota has held the seat since 2016. In April he has signed an abortion ban after six weeks with no exceptions for rape or incest.
In May he approved a bill Ban on pronoun policies in schools and the requirement for teachers to notify a student's parent or legal guardian if the student identifies as transgender. He is signed seven more He has advocated anti-trans legislation since January but claims he will not sign a federal abortion ban if elected.
Burgum also claimed Speaking on NBC News' Meet the Press Saturday, he said he would stay away from "any culture war issue" such as abortion, book bans and transgender legislation during his campaign and if elected.
"I'm comfortable with these struggles taking place at the state level because if people don't like them, they have an opportunity to get involved and try to change that. I'm not going to push this at the federal level because I believe in freedom and independence," Burgum told NBC journalist Chuck Todd on Saturday.