News
GOP strategist blasts 'incredibly stupid' Republican move that could wipe them out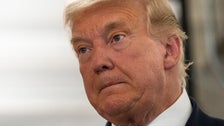 GOP strategist Mike Murphy on Wednesday criticized Republicans' ongoing attempts to impeach Joe Biden, predicting it could lead to a complete collapse of the party at the ballot box next year.
It's an "incredibly stupid idea," Murphy, a former adviser to Senator Mitt Romney (Utah) and the late Senator John McCain (Arizona), told MSNBC's Stephanie Ruhle.
Republicans are "missing an opportunity to prosecute President Biden for his performance in the economy," he said. "But we in my beloved GOP suffer from a kind of Banana Republic wing."
And it's those extremists, particularly in the House of Representatives, who "need to support direct mail fundraisers" who "can't wait to do something like that because it's in their narrow interest," he added.
"It's not in the interest of the Republican Party if they don't want to get lost in next year's November election," Murphy said.
Last month, Greene slammed colleagues who don't jump on the impeachment train when she asked, "What the hell is wrong with the Republicans" who aren't investigating President Joe Biden?